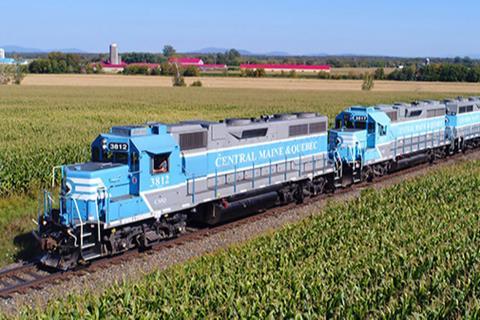 INTERNATIONAL: Canadian Pacific has agreed to acquire the Central Maine & Quebec Railway from Fortress Transportation & Infrastructure Investors LLC, the two companies announced on November 20.
CMQ operates a 774 km network in Québec and Maine, largely comprising the former Canadian Atlantic Railway and Banger & Aroostook Railroad. Running from Montréal to Saint John, New Brunswick, CAR had historically formed the eastern end of Canadian Pacific's transcontinental main line, which took a more direct route through Maine to reach Canada's Atlantic seaboard. The business was spun off in 1995, passing through several owners before being acquired by Fortress in 2014.
The acquisition will provide CP with access to the ports at Searsport, Maine, and Saint John via the Eastern Maine and New Brunswick Southern railways — two subsidiaries of Irving Transportation Services which operate the eastern end of the former CAR in the USA and Canada respectively.
'This strategic acquisition gives CP a true coast-to-coast network across Canada and an increased presence in the eastern USA', said CP President & CEO Keith Creel. 'With additional port access and our proven Precision Scheduled Railroading operating model, we are confident this transaction will bring benefits to all stakeholders.'
As part of the transaction, which is expected to be completed by the end of this year subject to regulatory approval, FTAI will retain ownership of the Katahdin Railcar Services tank wagon cleaning and repair facility, and the contract to operate the 19 km branch line serving the group's Long Ridge Energy Terminal in Monroe County, Ohio.