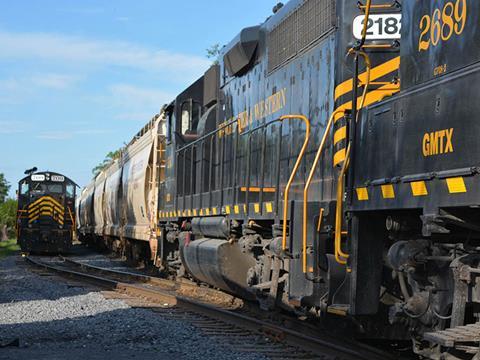 USA: OmniTRAX has agreed to acquire the Winchester & Western Railroad from minerals company Covia Holdings Corp for $105m in cash, subject to adjustments. The transaction which is expected to close in Q3 2019 includes 470 wagons owned by the railway.
Class III railway W& W has two divisions totalling 160 km, with an 85 km route in the Shenandoah Valley connecting Maryland, West Virginia and Virginia and a separate 75 km network in southern New Jersey.
'Today's announcement is another key step in the actions we are taking to execute our strategy to optimise our asset base and maximise cash flow,' said Covia President & CEO Richard Navarre on July 26. 'As we know from working with them for many years, OmniTRAX is an ideal candidate to further enhance the value of the W&W. They have a long track record of successfully operating logistical assets, and by partnering with them on this transaction, we will be able to meaningfully improve our capital structure, as well as take an important step in improving our structural costs by better balancing our railcar fleet with demand.'
OmniTRAX said the acquisition would expand its portfolio into 'key new distribution locations in multiple east coast markets', while the W&W would benefit from 'support and leadership guidance that will allow it to implement improved operational strategies with the speed and agility that a logistics company can deliver.' This would include deployment of OmniTRAX's Precision Scheduled Short Line Railroading strategy to lower operating costs and improve performance.
CEO Kevin Shuba said OmniTRAX 'has been growing at an average annual rate of 20-plus percent for the past five years, and the acquisition of this strategic distribution hub is a deliberate step toward enhancing the continued growth and strength of our thriving network'. He said 'expansion into these dynamic markets with a diverse, established customer base and strong regional economic partners offers tremendous growth potential and we have high expectations for economic impact and job production.'
BMO Capital Markets Corp is serving as financial adviser to Covia, with Hinckley, Allen & Snyder as legal counsel.