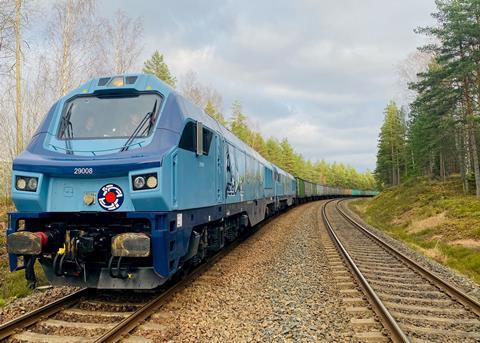 FINLAND: Estonian national freight operator Operail ran its first commercial open access train in Finland on November 3.
Port operator Rauanheimo has appointed Operail to provide haulage services from the Russian border at Vainikkala to the port of Koverhar in Hanko, around 120 km west of Helsinki.
The first train ran a year after Operail announced plans to expand into Finland. The company's Finnish subsidiary was granted an operating licence in May, and the first two of nine 1 524 mm gauge Wabtec PowerHaul diesel locomotives were delivered from the Tülomsaş factory Turkey during June.
'In a short time, we have managed to hire highly valued professionals to our team, whose knowledge and experience have helped to make sure that the intensive preparation period was successful', said Ilkka Seppänen, Managing Director of Operail Finland, thanking the Finnish authorities for their 'professional, supportive, efficient and constructive' co-operation.
'International expansion is an integral part of our growth strategy and we are delighted to take the next step towards greater goals by starting operations in Finland', said Paul Lukka, Chairman of Operail Finland. 'This is the moment we have been eagerly waiting for. We are grateful to Rauanheimo for the trust they have placed with us, and we will do our best to meet the expectations set for us and offer a high-quality and reliable service.'
Operail's aim is to 'secure our position in the market', Lukka said. 'We already have new plans in place, and we will be happy to share them with the public when the time is right.'
Finland's first open access freight operator was Fennia Rail, which launched in 2015.
Rauanheimo Managing Director Joakim Laxåback welcomed Operail as the latest market entrant, saying it would 'perfectly complement' VR Transpoint to 'strengthen trade in Finland and our competitiveness on the world market.'
'We see substantial volumes for dry bulk transported by rail on the Vainikkala – Koverhar route and in the long term a growing need for rail transport in the whole country, both in terms of domestic loads and transit', Laxåback said.