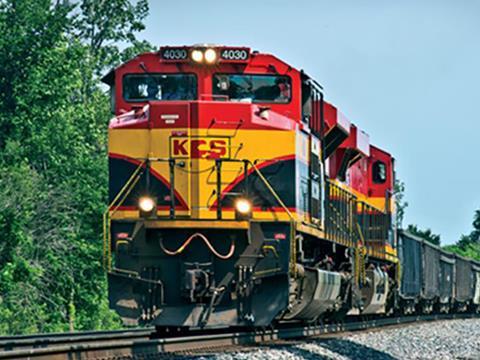 USA: 'Kansas City Southern's implementation of Precision Scheduled Railroading principles has sustained momentum in the fourth quarter, driving strong results in the form of more consistent and reliable operations, improved customer service, improved cost structure and growth in shareholder returns', said President & CEO Patrick J Ottensmeyer when presenting the railway's 2019 Q4 and full-year results on January 17. 'Thanks to the hard work and dedication of KCS's employees, we exited 2019 with network-wide velocity performing at record levels.'
Full year revenues were up 6% at $2·9bn, despite a 1% decline in carloads. Net income was $540·8m, down from $629·4m the previous year, with earnings of $5·40 per diluted share, down from $6·13. The operating ratio was 69·1, compared to 63·7 in 2018.
KCS said it had significantly improved its operating performance, with a 22% increase in gross velocity, a 16% decline in terminal dwell and a 19% improvement in car mileage.
PSR initiatives contributed directly to operating expense savings of $58·0m, and are projected to deliver incremental savings of $61·0m in 2020.
'Year one of KCS's PSR implementation has exceeded our own expectations for service, operational and financial improvement', said Ottensmeyer. 'As we turn our focus to 2020, we look forward to growing our business while implementing our second year of PSR initiatives.'