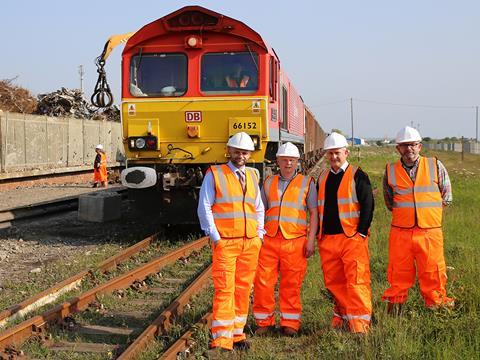 Ward Bros (Steel) Ltd has awarded DB Cargo UK a contract to operate a weekly train carrying scrap metal from its processing facility at the Port of Sunderland to the Celsa Steel UK works in Cardiff. DB Cargo said these are the first trains from the port since 1998.
Backed by the Russian government's programme of support for modern wagon orders, Lokotrans has signed a contract for United Wagon's Tikhvin plant to supply 150 Type 13-6852 timber wagons this year. They are designed for timber from 3 to 13 m in length, and have 25 tonne axleload bogies allowing a capacity of 122 m3 or 74 tonnes.
UK operator GB Railfreight has awarded WH Davis a contract to convert 25 ex-GE Capital coal hopper wagons to carry aggregates. Further wagons are to be ordered as the operator expands its activities in this market.
CTL Logistics has leased a further four Bombardier Traxx 140 AC locomotives for use in Germany.
HSH Nordbank is mandated lead arranger for a €750m refinancing of leasing company Akiem, making available a loan of €125m. The deal will refinance existing loans and fund future growth.
Group Eurotunnel's GB Railfreight has launched a Swindon – Gent automotive flow for Honda, which it says is the first car trains through Channel Tunnel for six years. The initial contract covers the operation of 10 trains, but GBRf hopes that it wil be extended.
On July 7 CFL Multimodal held a topping-out ceremony for a 30 000 m2 warehouse it is building at the Eurohub-South logistics park in Luxembourg. Completion of the €34m facility is planned for the end of 2016.
The first freight train since 2006 ran to Potter Logistics' Knowsley rail freight terminal in northwest England on June 28. Services to northeast England will operate twice daily on weekdays and once on Saturdays.