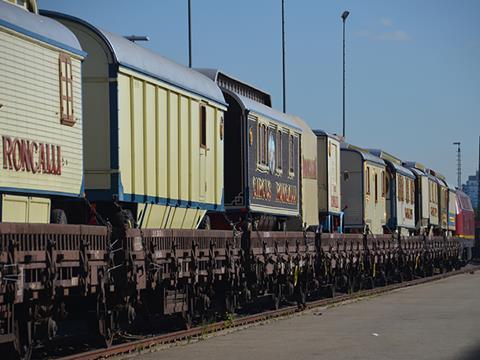 Rail Cargo Group is to provide logistics services for the 40th anniversary tour of Circus Roncalli, including support within Germany for the first time. The circus travels on 50 two-axle flat wagons formed into a 700 m block train, with the complex loading procedures taking 15 h across two days.
On August 19 Australian logistics group Asciano split into three distinct businesses under different ownership structures: rail freight operator Pacific National, container terminal operator Patrick, and port operator Bulk & Automotive Ports Services which is to be rebranded (RG 7.16 p24).
Angolan fuel company Sonangol EP took delivery of its first shipment of butane gas via the Benguela Railway to Luena in Moxico province on August 5. The company said the railway offers greater capacity and safety than road transport, and 'substantially' reduces its costs.
Aurizon has been awarded its first coal haulage contract in the Southern Coalfields of NSW, covering the haulage of 800 000 tonnes/year from Wollongong Coal's Wongawilli Colliery to Port Kembla Coal Terminal between August 2016 and August 2018.
Đuro Đaković Specijalna Vozila has signed a 20m kuna contract to supply wagons to a French customer in late 2016.
Qube has reached an agreement to buy out Aurizon's interest in the Moorebank freight terminal project near Sydney for A$98·9m. 'We are delighted to be able to secure full ownership and control over such an important project for Qube', said Managing Director Maurice James on August 2. 'We believe it will enhance the deliverability of the project and maximise flexibility for Qube in terms of funding and partnering options for warehouse development.'
Kazakhstan Railways has announced that it has reduced from 3 h 55 min to 3 h 10 min the time required to tranship containers in transit from China to Turkey between 1435 mm to 1 520 mm gauge wagons at Altynkol, using three 50-tonne shear legs and two reach stackers. Altynkol had handled 51 container trains for various destinations in the first seven months of 2016, compared to last year's total of 22 trains which were mainly for Uzbekistan and Kyrgyzstan.
PCC Intermodal inaugurated an intermodal terminal in Kolbuszowa near Rzeszów in Poland on August 16, replacing a site in Dębica. It will be served by thrice-weekly trains to Rotterdam, Antwerp, Hamburg and Gdynia, and is expected to handle up to 16 000 TEU/year.
The number of Louisville & Indiana Railroad and CSX trains on the line between Louisville, Kentucky, and Seymour, Indiana, is to be increased from around three to 10 per day and the maximum speed increased from 40 to 80 km/h from September 1. This follows the completion of a $100m track and signal upgrading package which has been funded by CSX to improve rail access to the Port of Indiana-Jeffersonville.
K&S Freighters has awarded Aurizon a five-year contract worth A$20m to A$25m per year to haul 20 000 TEU/year across Australia. Aurizon is to lengthen trains and increase double-stacking on its five services per week on the east-west corridor, and K&S Freighters will be a launch customer for the Port Botany rail shuttle service which is scheduled to begin at the end of August.
CargoNet is to introduce a container and semi-trailer carrying service between Oslo Alnabru and the Swedish port of Trelleborg on September 3, running three times a week in each direction.