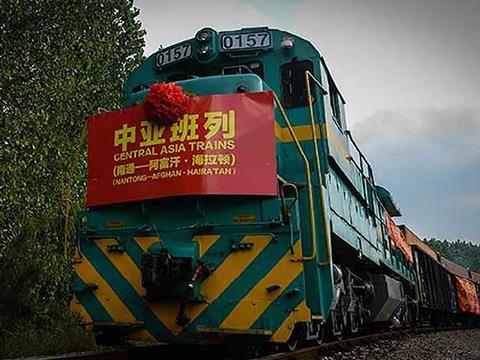 What is described as the first train from China to Afghanistan left Nantong in eastern China's Jiangsu province on August 25, carrying 84 containers. It is scheduled to take 15 days to complete the journey to Hairatan via the Alataw Pass, Kazakhstan and Uzbekistan. Two trains are scheduled to run on the route each month as part of China's One Belt, One Road initiative to improve Asian transport connectivity.
The Bio FastTrack partnership between InterCity RailFreight and WEGO Carbon Neutral Couriers has reported a 100% increase in the number of time-critical biological samples it has carried on East Midlands Trains passenger services in the UK over the last 12 months. The samples are carried in sealed containers in dedicated temperate-monitored lockers. 'It has taken a lot of work to build the relationships with all the partners, but it is proving so successful that we have now used passenger trains to carry a wide range of products including everything from urgent documents and auto parts to time-critical perishable products,' said ICRF Managing Director Jeff Screeton on August 15.
Lithuanian Railways and Maersk Line have expanded their 2015 agreement for the operation of a Klaipeda – Vilnius intermodal train to now cover destinations in Belarus. This is planned as the first step towards establishing a connection to Central Asia.
On August 17 Ukrainian Railways and Newag signed letter of intent to explore locomotive modernisation options; US has signed similar agreements with Bombardier and GE.
Chongqing - Duisburg container trains carrying HP products have begun using the Korgas border crossing between China and Kazakhstan, having previously run via Dostyk. 'HP container trains will increase in quantity', said Ronald Kleijwegt, Director Global Logistics Optimisation & Programme Management at HP. 'We expect to send our products here from other Asian regions. We are willing to expand our geography to Kazakhstan, Russia, Central Asia, the Caucasus and Europe.'
A weekly freight service from Yiwu in China's Zhejiang province to Chelyabinsk in Russia was launched on August 13. The fourth service from the city to western Asia and Europe covers the 7 200 km in eight days.