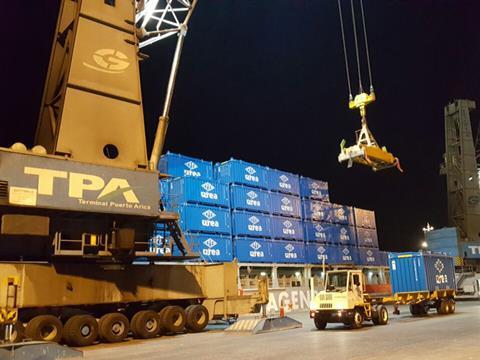 BOLIVIA: State-owned oil and petrochemicals company YPFB has ordered 250 wagons and 500 specialised containers which will be used to transport fertiliser on the country's 1 000 mm gauge rail network.
While the wagons are being manufactured locally in Santa Cruz, the containers are now being delivered by CIMC of China, acting as manufacturing subcontractor for ISG of Australia. The specialised 20 ft design features a removable top and is able to carry a payload of 25 tonnes.

The containers will carry fertiliser from the new ammonia and urea plant that YPFB is building in Bulo Bulo at a total cost of US$876m, which will be able to produce up to 2 100 tonnes of urea a day. According to YPFB Project Director Carlos Vilar, the containers will move by rail to Puerto Suárez on the border with Brazil and to Yacuiba on the border with Argentina.