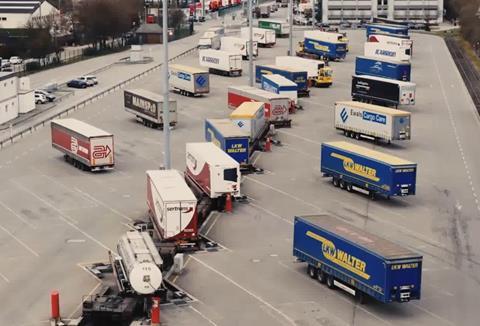 FRANCE: Brittany Ferries is going ahead with plans for a 'rail motorway' service carrying unaccompanied lorry trailers between the port of Cherbourg and the European Freight Centre at Bayonne near the Spanish border. This will offer connections at Cherbourg with ferries to Poole and Portsmouth in the UK and Rosslare in Ireland, and will be open to users of all ferry companies as well as local logistics companies.
The project was announced in February 2020, but was paused as a result of the coronavirus pandemic which led to a reduction in ferry services for nearly two years.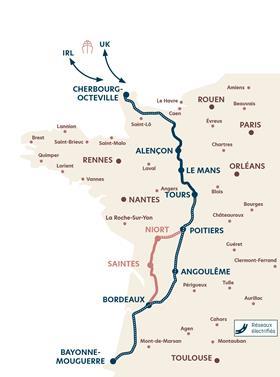 During this time Brittany Ferries has worked with SNCF Réseau and the Ministry for Ecological Transition to develop the plan, and framework agreements have been reached for the modification of four tunnels and the allocation of train paths for five years.
Brittany Ferries said it would operate and sell the new service, 'effectively becoming a rail operator'. It has selected the Modalohr piggyback system, and will equip terminals at each end of the route and acquire two rakes of 21 double-pocket wagons allowing 42 trailers to be transported per train.
Diesel locomotives will be initially be used, as parts of the 970 km route are not electrified, but a switch to dual-mode locos is envisaged.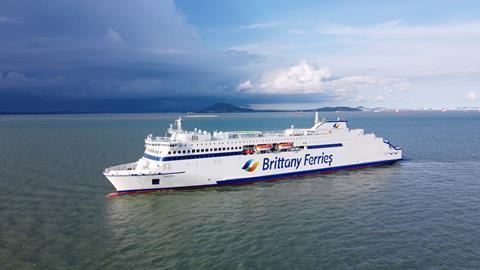 The project is being backed by the national government and the regions of Normandie and Nouvelle Aquitaine. A consortium of local transport operators, the Communauté d'agglomération du Pays Basque and Brittany Ferries has been formed to bid for funding from the EU's Connecting Europe Facility.
The launch is now planned by mid-2024, with trains routed via Saintes until 2026 and then via the Poitiers – Angoulême – Bordeaux main line.
There will be a daily train in each direction. The southbound service will leave Cherbourg at 19.15 and arrive at 11.00 the following day, with the northbound service departing at 19.26 and arriving at 11.08.