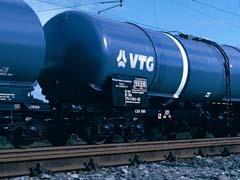 GERMANY: Wagon leasing and rail logistics company VTG has reported 'controlled growth' for 2011, with revenue of €750m up 19·2% from the 2010 figure and operating profit up 9·3% to €168·7m. The executive board is to propose a dividend of €0·35 for 2011, an increase of 6%.
'We used 2011 to actively push forward our international expansion and once again strengthen the company', said Chief Executive Dr Heiko Fischer. New long-term financing was put in place to lay a 'solid foundation' for future growth.
In 2011 VTG made 'strategic acquisitions' in the world's two largest rail markets, with the takeover of the Railcraft group in Russia adding 870 wagons and the acquisition of SC Rail Leasing doubling its North American fleet. These deals 'serve as proof that we are on a continual path of growth and mean we are confidently looking towards 2012', said Fischer.
The board is predicting 'slight growth' in 2012, with revenue of €760m to €800m and EBITDA of €170 to €178m. Firm orders have been placed for 2 500 wagons to be delivered in 2012 and early 2013.