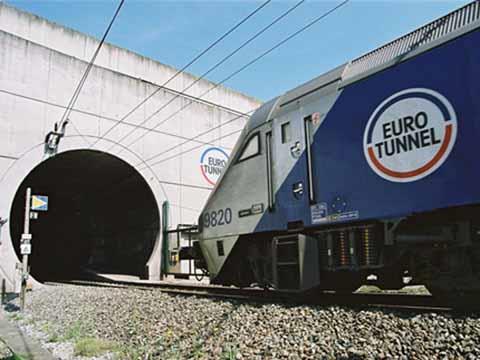 Eurotunnel reports that Truck Shuttle traffic in 2016 was up 11% compared to 2015, with an all-time record of 1 641 638 vehicles transported. Passenger Shuttle traffic increased by 2% with 2 663 865 vehicles transported.
Indian Railways ran a trial piggyback service carrying lorries between Jawaharlal Nehru Port and Boisar on January 5, to support a proposal to reduce road congestion and pollution. 'The trial run was successful, and we are now looking at other operational feasibilities such as loading/unloading and infrastructure requirements', said a spokesman for Western Railway.
On January 9 Hector Rail began a three-year contract to operate 600 000 train-km/year transporting 125 000 cars/year from southern Germany for ARS Altman. 'This is our first contract for car transport and an important step in our strategy to become an important player in the German rail market', said Hector Rail Managing Director Mats Nyblom.
Railpool has handed over a second Bombardier Traxx AC3 Last Mile locomotive to Hamburg-based operator HSL Logistik under full service leasing deal.
Users of Bourque Logistics software can now use access eRail Commerce's database of wagons available for sale or lease. 'Our clients have often enquired about an effective way to source and release railcar assets as well as search for available storage', said Steve Bourque, President of Bourque Logistics. 'This provides a highly effective method to do so'.
Hatrans Logistics operated 200 trains between Chengdu in China and Łódź in Poland during 2016, and hopes to increase this to 500 in 2017 and possibly 1 000 in 2018. The company believes the predictable 11-day journey time is attractive to shippers as it ties up less capital than cheaper maritime transport.
On January 2 Takargo of Portugal began operating two trains a day to carry imported steel coil from the port of Setúbal to the Lusosider plant at Seixal, traffic expected to reach 300 000 tonnes a year. A weekly service conveys finished steel products from Seixal to the terminal in Valongo operated by SPC.
Rapid City, Pierre & Eastern Railroad now interchanges directly with Union Pacific at Mankato, Minnesota, which is expected to save time for agricultural shippers. 'Moving products to market quickly is critical to fertiliser and crop producers', according to Kari Kirchhoefer, UP's Vice-President – Chemicals. 'GroTrain is a cost-effective solution that streamlines rail service, expedites transit times and provides increased efficiencies they need.'
KTZ Express, RTSB, Belintertrans-Germany and Euro-BRICS have launched the first refrigerated container train service between Herne in Germany and Lanzhou in China via Kazakhstan. The inaugural train carried perishable products and fine wine from France.
Reading & Northern Railroad has raised the line speed on its Reading to Port Clinton route to 64 km/h for the first time in 25 years, cutting travel time by about 7 min. The company said it was 'one of very few smaller railroads' with track of the quality required to operates at that speed.
From January 1 Hector Rail began operating six overnight round trips per week between Duisburg in Germany and Helsingborg in Sweden on behalf of Samskip.