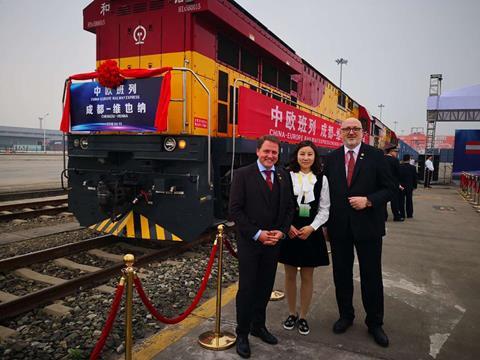 The first direct freight service between China and Wien left the Chengdu Qingbaijiang freight terminal on April 12, carrying 44 containers of electronic components, lighting equipment and homewares on a 9 800 km route via Kazakhstan, Russia, Ukraine and Slovakia. It was organised by Chengdu International Rail Port Group and Austria's Rail Cargo Group. RCG already operates weekly Changsha – Budapest and Chongqing – Duisburg services and as-required services from Taiyuan to Lugo in Italy.
Supported by a $500 000 grant from the Pipeline & Hazardous Materials Safety Administration, the US Short Line Safety Institute has launched a Hazardous Materials Instructor Training programme which is free of charge for Class II or Class III railways.
Far East Land Bridge launched an expedited eastbound freight service from Duisburg to Suzhou on April 10, with a transit time of 16 to 18 days.
UVZ-Logistic was renamed Modum-trans with effect from April 3, after UVZ sold the business to Invest-Logistics.
Militzer & Münch Group has launched a weekly less-than-container-load service from Duisburg to Wuhan. The first door-to-door LCL consolidation box shipment from took 26 days to cover the 10 550 km, including 18 days by rail. 'The consolidation box service offers our customers the chance to increase their supply chains' efficiency owing to savings in cost and time', said Glenn Bai, Managing Director Militzer & Münch China. Sea freight transport takes over 45 days from Duisburg Port to the Port of Wuhan'.
Japan's Nishi-Nippon Railroad Co has acquired a 90% stake in New Zealand-based maritime and air freight company GCS Logistics Ltd.
LDz Cargo is to introduce an automated wagon monitoring and recording system at Šķirotavā and Jelgavā, completing a programme to cover all international routes which began in 2014. The system records wagons and identifies out-of-gauge loads and other potential problems.
On April 12 Belarusian Railway and DHL Global Forwarding China signed a memorandum of understanding for co-operation in the Eurasian freight market.