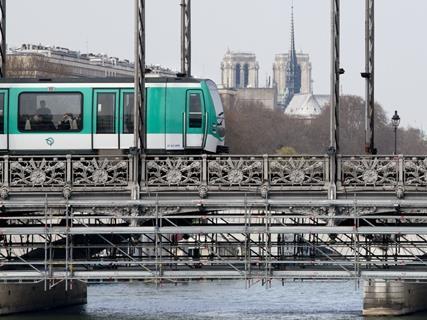 FRANCE: Meeting on October 7, the board of Ile-de-France transport authority STIF unanimously approved a framework agreement to fund the extension of Paris metro Line 11 by 6 km from its current terminus at Mairie des Lilas to the RER Line E station at Rosny-Bois-Perrier. Costing a total of €1⋅3bn, the project will add six new stations to the network, serving a population of 82 500 within 600 m.
Construction of the extension has been budgeted at €1⋅08bn, of which the French government is providing €214⋅4m, the Ile-de-France region €500⋅3m, Société du Grand Paris €305⋅3m and the département of Seine-Saint-Denis €64m. A first tranche of €110m has agreed for the initial phase of works, being provided the government, Ile-de-France, the département of Paris and RATP.
The extension project also includes a €214m programme of station works on the existing section of Line 11, of which the government is providing €24m, Ile-de-France €56m, Paris €61m and RATP €73m. At a cost of €151m, STIF is to entirely fund a new fleet for Line 11 where train lengths will be increased from four to five cars.
Separately, STIF also approved the financing plan for a 20 km tram-train route running from Massy Palaiseau to Evry-Courcouronnes in the southern outer suburbs of Paris. Work is due to start in the first half 2016 on this €455m project, the initial €76m tranche of funding provided by the government (28%), Ile-de-France (53%), the département of Essonne (15%) and SNCF Réseau (4%).
Tram-trains would run over the existing railway between Massy Palaiseau and Epinay-sur-Orge, replacing RER Line C services and calling at two new stations. A new tram route is to be built between Epinay and Evry, where services would terminate close to the station on RER Line D.
Serving a total of 16 stations, services would operate every 10 min in the peaks and every 15 min at other times. According to STIF, initial demand is forecast at 40 000 passengers/day.