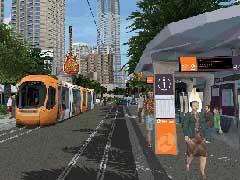 AUSTRALIA: Expressions of interest are due to be called later this year for the Gold Coast light rail project. Promised A$365m in federal funding, Queensland state and the local government must now identify sources of finance for the remainder.
The federal funding is targeted at Stages II and III of the project, the cost of which is estimated at A$850m. The Gold Coast city council has already allocated A$150m and the state says it will also contribute. The cost of Stage I has yet to be determined, and depends on the final route selection.
The first section of the light rail line will run from Helensvale to Griffith University, either through the suburbs or via Harbour Town. The second stage would link the university to Southport, whilst the third would reach Broadbeach. Construction is due to start in 2011 and be operational in late 2013.