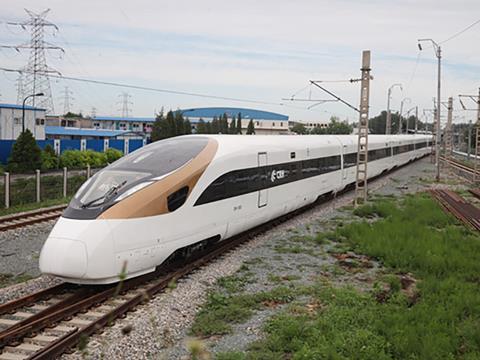 CHINA: Tenders for the supply of 351 high speed trainsets were issued by China Railway Corp on July 17, in what the railway says is the largest train procurement in its history.
Covering 228 trainsets for 350 km/h operation and 123 for 250 km/h, at an estimated total value of 66bn yuan, the orders are to be funded through CRC subsidiary China Railway Investment Corp. The tenders are restricted to Chinese companies which already hold licences to build high speed trains, including the various CNR and CSR companies which now form part of the merged CRRC.
With passenger demand on the Chinese rail network predicted to treble by 2020 to more than 5 billion trips a year, CRC President Sheng Guangzu has reportedly indicated that the railway's locomotive and rolling stock investment could top 150bn yuan this year.
Among the contenders for the new train orders is the 'Chinese Standard' high speed train, of which the first prototype began test running on June 30. This has been developed under a programme initiated in 2012 by the former Ministry of Railways, involving 30 manufacturers and academic institutes including the Chinese Academy of Engineering and the China Academy of Railway Sciences. The trains were specified to operate in the wide range of different terrains and climate found in China.
According to CRC Chief Engineer He Huawu, the domestically-developed trains are designed to 'gradually replace' the existing mix of trains derived from international designs, which 'will greatly reduce our production, operational and maintenance costs'. They would also allow Chinese suppliers to bid in markets which are currently excluded under their licencing agreements with foreign partners.
Two 350 km/h prototypes will be put through their paces at the CARS test centre near Beijing over the next few months, including trials at up to 400 km/h. He says they will then undergo 600 000 km of endurance running on the Taiyuan – Yuanping section of the Datong – Xi'an high-speed line.
China's high speed network has now passed 20 000 route-km following the inauguration of the 813 km Hefei – Fuzhou Passenger-Dedicated Line on June 28. Around 2 000 route-km is expected to open this year, and test running on the 281 km Harbin – Qiqihar route in Heilongjiang province began on July 13. Designed for 250 km/h operation, this is the most northerly PDL in China, taking five years to build in a region marked by very cold winters. Revenue services are expected to start in August, serving eight intermediate stations and carrying around eight million passengers a year.