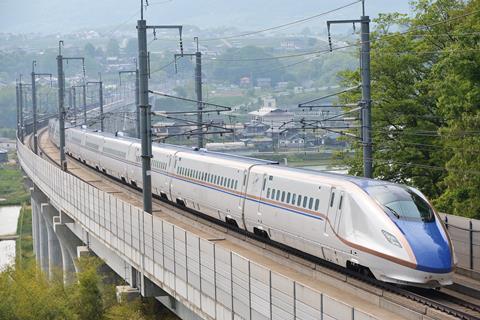 JAPAN: Services on the Hokuriku Shinkansen and various other lines are expected to be disrupted for several weeks as a result of typhoon damage, East Japan Railway confirmed on October 15.
Rail and road links in the Kanto Koshinetsu and Tohoku regions were badly affected by flooding during the passage of Typhoon No 19 (Typhoon Hagibis) on October 12-13, with JR East reporting 'major damage to facilities and vehicles in various places'.
Services on the Hokuriku Shinkansen have been suspended completely between Nagano and Joetsu-myoko, as a result of flooding between Nagano and Iiyama. The railway says damage to the signalling power supply network could take up to two weeks to repair. JR East has been operating restricted shuttle services from Tokyo to Nagano and Joetso-myoko to Kanazawa.
Even when through running resumes, the operator warns that services will be restricted as a result of a rolling stock shortage. The Nagano Shinkansen depot was inundated when the Chikuma River burst its banks, submerging 10 of the 19 Series E7 trainsets used on the route and two of JR West's 11 matching Series W7 units, amounting to more than one-third of the total fleet. Equipment in the maintenance workshop was also damaged. Although the depot site is designated as a flood zone, it was only thought to be at risk if water levels rose by between 10 m and 20 m.
It is not yet clear whether the damaged trains can be repaired, or will have to be replaced at an estimated cost of ¥3·3bn each. Local media suggest that JR East may temporarily redeploy the new Series E7 sets being built to replace its Series E4 double-deck trainsets on the Joetsu Shinkansen by the end of next year.
The 1 067 mm gauge Chuo Main Line between Tokyo and Yamanashi prefecture was also breached in several places as a result of the typhoon, disrupting both passenger and freight operations. While JR East was able to resume service between Otsuki and Kofu on October 14, the line remains blocked by a landslip between Takao and Otsuki, while a retaining wall between Takao and Sagamiko has collapsed.
The railway hopes to be able to restart a limited shuttle service over this section using one track by October 18, but warned that full services were unlikely to resume before the end of the month. In the meantime, damage to parallel main roads in the area has limited JR East's ability to arrange substitute bus services.