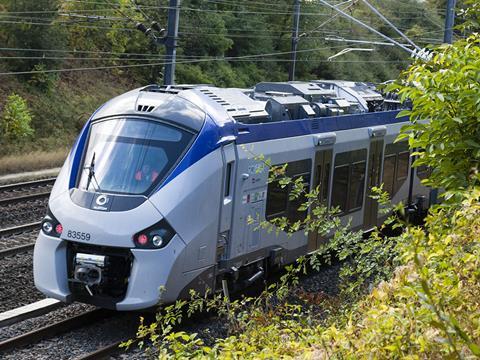 FRANCE: Plans to convert a TER regional multiple-unit into a prototype overhead electric, battery and diesel hybrid unit were announced by SNCF and Alstom on September 17.
The Grand Est, Nouvelle-Aquitaine and Occitanie regions and Alstom are to spend €16.6m converting and testing the Régiolis unit, which will be taken from the Occitanie region's fleet. Two of the four diesel engines will be replaced with high-capacity lithium-ion batteries able to store regenerated braking energy.
Design and production will be undertaken at Alstom's regional train centre in Reichshoffen, with the company's Tarbes site supplying the traction drive and Villeurbanne the onboard systems.
In-service testing is planned for 2021, ahead of deployment from 2022. The trainset will be used to test functions including switching off the diesel engines as trains approach stations, in particular in densely-populated areas.
The Régiolis Hybride project is intended to support Alstom's aim of reducing its trainsets' energy consumption by 20%. 'We see hybridisation of the diesel rolling stock fleet as a realistic technical and economic solution to reduce emissions and costs for users', said Jean-Baptiste Eyméoud, President of Alstom France.
'No other solution offers short-term gains on this scale for rolling stock, a 20% reduction in energy consumption and greenhouse gas emissions', said SNCF's TER Managing Director Frank Lacroix.
President of the Nouvelle-Aquitaine region Alain Rousset said only 40% of the region's railways were electrified, and the existing electric infrastructure is ageing, and so the hybrid train could offer new possibilities for optimising the operation of minor lines.