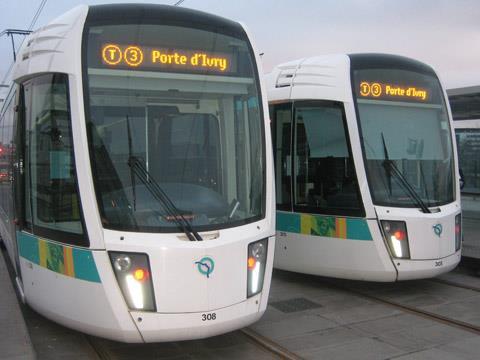 FRANCE: A €378m leasing package that will enable regional transport authority STIF to acquire 107 vehicles for new light rail routes in the Ile-de-France region was announced on November 7. Deliveries to operator RATP are now underway for completion in 2014.
With a term of 33 years, the package includes a €300m loan from the European Investment Bank to Crédit Foncier de France. The remaining finance is to be provided by Crédit Foncier de France, Caisse d'Epargne Ile-de-France and Caisse d'Epargne Rhône Alpes.
From next year Alstom Transport is to supply a total of 64 Citadis 302 cars, including 24 for the 14·5 km extension of route T3 in Paris from Porte d'Ivry to Porte de la Chapelle, due to enter service towards the end of 2012. The 43·7 m long cars will each accommodate a total of 302 passengers, with seats for 75.
A fleet of 19 cars will be required for the 11·2 km route T7 from Villejuif to Athis-Mons in the southern suburbs, opening towards the end of 2013 with 18 stops, while 20 are to be delivered for the 8·5 km route T8 from Saint-Denis to Epinay-sur-Seine and Villetaneuse, due to open in 2014. These cars will be 32·7 m long, accommodating a total of 200 passengers with 54 seats.
The funding agreement also covers the acquisition of 15 Translohr STE 3 vehicles now being delivered for the first rubber-tyred tramway in the Ile-de-France region, the 6·6 km route T5 due to open in 2012 between Saint-Denis and Garges-Lès-Gonesse. A fleet of 28 STE 6 cars is to be supplied for route T6, running for 14 km from Châtillon-Montrouge to Viroflay and expected to open in 2014.
Under the TramFret project, from November 14 to December 10 an empty vehicle is to make two return journeys on route T3 between Pont du Garigliano and Porte d'Ivry during off-peak hours every day except Sunday. This to assess the likely impact of proposed freight services on the capacity of the rail and road networks.