Common technical specifications and improved border procedures will help the railways of Central Asia to work closer with their Russian neighbours to capture growing international business. Chris Jackson reports from Almaty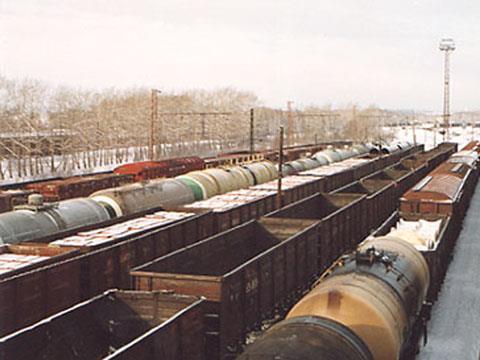 'TRANSPORT INVESTMENT is essential for the whole economy. We need to develop this investment on a proper basis and work for active integration across the Eurasian region'. This was how Boris Lapidus, Senior Vice-President for Strategic Development at Russian Railways, summed up the objectives of the 1520 Strategic Partnership's Central Asia regional business forum in Almaty last month.
Formed to encourage closer co-operation between the 1 520 mm gauge-railways of Finland and the former Soviet Union, the 1520 Strategic Partnership held its inaugural event at the Russian Black Sea resort of Sochi in May. The two-day session in Kazakhstan on December 5-6 was the first in a series of regional forums, and attracted almost 300 delegates from 15 countries, including railway operators, shippers, suppliers, consultants and financiers.
The break-up of the Soviet Union in 1991 brought many problems for the newly-independent railways of Central Asia. New borders severed former trunk routes which in some cases no longer matched the changing traffic flows. Whole networks were cut off from their management structures. Traffic plummeted while the new state railway administrations got to grips with the situation.
Today, rapid economic growth across the region is driving up freight traffic once again, despite often-lengthy border delays. Kazakhstan's economy is expected to grow by 8% or 9% a year for the next decade, driven by the opening-up of new oil reserves around the Caspian Sea, mineral resources in the north, and growth in international trade. To the east, China's plans for a new special economic zone producing goods for western markets offers the prospect of transit traffic through the region valued at US$2bn to US$3bn a year.
Strategic importance
Nariman Tuleev, CEO of Kyrgyz Railways, summed up the strategic importance of the region. 'Geographically located in the very heart of the continent, Central Asia has been a gateway to many strategically-important regions of Eurasia: China and the Asia-Pacific region to the east, Afghanistan in the south, Middle East countries to the west, and the Caucasus, Turkey, Europe and Russia in the north. That is why the vector in which the Central Asian countries are going to develop will to a large extent determine the balance of powers in this corner of the globe.'
According to Tuleev, there are five primary Trans-Eurasian railway strategies being promoted at present. Apart from his country's long-planned link into western China (RG 7.03 p449), there is the emerging Traseca route through the Caucasus to Central and Eastern Europe, the Eurasian North-South Corridor linking Moscow with Iran and the Persian Gulf region, UNESCAP's recently-endorsed Trans-Asian Railway strategy and the existing Trans-Siberian corridor through Russia, which just touches the northern edge of Kazakhstan.
Tuleev emphasised that 'geopolitically and economically, the railway's importance for Central Asia can hardly be overestimated'. Different players are backing the various strategies, with Russia promoting the North-South and Trans-Siberian, China backing the Sino-Kyrgyz and Trans-Asian routes and the EU pushing resources into Traceca.
Led by RZD, the 1520 Strategic Partnership is promoting a cost-effective approach to make best use of the existing broad-gauge network. Upgrading and expanding key routes, investing in common IT systems, and working together to overcome border delays will all help to improve operational efficiency and enable the railways to attract and carry more business.
Welcoming the development of closer links, the head of Tajikistan's state railway ROT Amonullo Khukumov said that 'the 1 520 mm gauge should become that very consolidating force to unite all railway operators in the CIS and the Baltic States.' Establishment of an optimal and effective single tariff zone' would facilitate the development of the broad-gauge network, he believed.
'The task to step up transit potential in the 1520 Area railways should be our number one priority' suggested the head of Belarus Railways, Vladimir Zherelo. 'An effective tool to do this is intermodal technology'. To this end he cited the recent success of the Mongolian Vector container service between Brest and Ulan-Bataar, and the East Wind from Brest to Aktobe in Kazakhstan. Both of these services carry traffic arriving in Brest from Eastern and Western Europe, and both are timetabled to run at 1 000 km per day.
Similar commercial speeds are being achieved on the Trans-Siberian services between the Pacific port of Vostochny and the Finnish border, according to the General Secretary of the Trans-Siberian Transport Co-ordinating Council, Gennadi Bessonov. But despite works to boost TSR capacity from 300 000 to 1 million TEUs a year, 'in 2006 railway container transport almost stopped entirely', he said. Traffic to Finland fell by 97% and the Polish business dried up altogether.
He put this down to a rise in the average rate to US$1 100 per TEU from January 1, making the TSR more expensive than sea transport, and the ending of a VAT exemption in Russia which added 18% to rail costs overnight, at a time when the introduction of even larger ships was cutting sea rates by 35% to 40%. Bessonov added that transit traffic also faced long border delays at Vostochny, Zabaikalsk and Naushki 'having capabilities to cover 10 000 km in a very short time, we often lose most of the time saved in passing customs formalities'.
Zherelo agreed. 'One third of rail business in Belarus is transit traffic, generating half of all profits. We have spent a lot to improve the condition of our railway, but sometimes political decisions defeat our work. The main thing is to make our customers believe in us, so that we can help to solve their problems.'
RZD is planning to invest 241·5bn roubles in enhancements to the Trans-Siberian corridor in 2006-11, with projects ranging from multi-tracking and bridge or tunnel enhancement to complete rebuilding or doubling and electrification of connecting or relief routes. Arrival and departure tracks at key yards are being extended to take longer trains.
Investing to expand
Kazakhstan's Minister of Transport & Communications Serik Akhmetov told the opening session that his country's transport strategy until 2019 is 'to integrate the Eurasian network for improved competitiveness.' Several billion US$ will be invested in both rail and road networks, including 1 600 km of new route, he said.
New line construction in the years after independence was largely focused on linking up the isolated sections of the respective networks rather than serving specific flows. Two such links have been opened in Kazakhstan, one in Uzbekistan and another across the Karakum desert in Turkmenistan. The final phase of the mountainous 223 km Tashguzar - Boysun - Qumqo'rgo'n line serving southwest Uzbekistan is on course to open by the end of 2007. But increasingly the railways are turning their attention to serving economic hot spots.
Kazakhstan's growing rapprochement with Russia has sidelined for now the proposal to develop a standard-gauge landbridge between China and Iran (RG 8.04 p486). Even the plan for a 1 435 mm gauge connection from Dostyk to a larger gauge transfer facility at Aktogai has been dropped, with KTZ Infrastructure Director Yuri Lavrinenko citing the reluctance of Chinese Railways to allow its wagons across the border. Instead a further expansion of the facilities at Dostyk was scheduled for completion last month.
Lavrinenko said the challenge now was to co-ordinate 'the inheritance of the past and the requirements of the future.' The east-west link between Mointy, Zhezkazan and Beineu is now expected to be completed as a broad-gauge line, at a projected cost of 184bn tenge. A 131 km branch costing 22·3bn tenge will serve the Caspian Sea port of Fort-Shevyenko, carrying oil and mineral traffic. A short 14·5 km branch from Erapuxaro will serve an oil refinery at Kuryk for 5·5bn tenge. One of the most significant new lines will run southeast from Sapy-Ossyk into the Tian-Shan mountains to Korgas, near the Chinese border. Costing 35bn tenge, this 265 km route is expected to be the main outlet for Western China's manufacturing plants, which are forecast to generate business worth US$26·5bn by 2015.
As Tajikistan is the southernmost point in the Central Asian network. Khukumov said ROT saw itself as a natural gateway to serve 'the markets of Afghanistan, Pakistan, Iran and China, together with ports in the Indian Ocean'. But ROT's 617 route-km is still split into three isolated segments linked only via Uzbekistan, requiring long detours to get from one part to another.
To improve competitiveness Khukumov explained that his company had drawn up an ambitious investment programme for consolidation and modernisation (below). However the railway does not have sufficient funding to implement all the schemes, and he invited delegates to put forward proposals for private-sector funding or PPP ventures.
One of ROT's biggest problems in financial terms is its comparatively short hauls. Khukumov said almost 80% of the railway's 12 million tonnes of freight traffic handled each year was import business, where the railway had a 63% market share. However, under the current tariff structure the short hauls gave ROT a small proportion of the end-to-end rates, which did not compensate sufficiently for the terminal handling costs. He was particularly critical of transloading arrangements at Dostyk, where one CR wagonload was often put into two broad-gauge vehicles for the final leg, but ROT only received payment for one consignment.
Tariff policies remain a source of contention for both the railways and the many shippers and freight forwarders attending the forum. Any rate structure needs to provide a fair share for the smaller railways, and include realistic terminal handling rates, yet it is important to ensure that the end-to-end charge is attractive enough to win business from other modes. A round table debating the topic felt there was a need for separate elements to cover infrastructure use, traction and energy consumption, wagon leasing (if the shipper is not using privately-owned vehicles) and operating costs. Coming up with an equitable formula that will satisfy all parties is not going to be easy.
Many delegates believed that the future of rail freight would depend on the development of integrated logistics centres, combining rail terminals and container-handling facilities with warehousing and distribution networks. A privately-promoted terminal is already in operation near Almaty, and many more are planned. Russia's Trans-Group is building a series of automotive terminals across the 1520 mm gauge network which will open by mid-2007, handling cars built in the Asia-Pacific region and imported via Nakhodka.
Linked by high-quality trunk services, the logistics terminals would be backed up by a comprehensive information network offering load and wagon tracking, electronic customs clearance and real-time performance monitoring across all the partner railways. RZD is already testing various systems, but some of the smaller railways seemed reluctant to buy into an integrated IT package without the opportunity to influence the final result.
Reform and renewals
A hot topic for debate was the question of reform, with Kazakh delegates keen to explain their strategy of separating rolling stock ownership from infrastructure management and train operations.
The ongoing KTZ restructuring programme has seen the creation of eight joint stock companies responsible for loco ownership, loco maintenance, freight services, train operations, passenger services, telecommunications and military traffic. In addition there are around 170 private-sector freight wagon operators, who must rely on KTZ to move their trains. At present all eight companies are KTZ subsidiaries, although in the longer term the plan is to sell off stakes in the operating and service businesses, leaving just the infrastructure and train operations under state control.
A similar structure is envisaged for RZD under the Russian reform programme, and Eestie Raudtee Development Director Raivo Vare confirmed that the Estonian government was likely to implement a similar reform in 2008 once the buy-back of the privatised railway had been completed on January 1 2007.
Another round table looked at the issue of rolling stock renewal which has been exercising many of the 1520 railways since independence. Few railways were left with much in the way of maintenance facilities or new-build capability, and today they are looking to renew or replace their older diesel and electric locos.
In Kazakhstan, KTZ has recently begun modernising its older diesel locos with GE equipment, and has now placed orders for over 300 new Evolution Series locos (RG 11.06 p699) to be delivered in 2007-09. The delegates were presented with details of the various locos under development by RZD and Transmash Holding. RZD Vice-President Valentin Gapanovich suggested that it would make sense for 1520 partner railways to adopt the same designs to ensure compatibility.
Moving forward together
Summing up the two days of discussions, RZD President Vladimir Yakunin confirmed that the 1520 Strategic Partnership offered a way for the railways to 'share our forces for the greater good'. Pointing to the example of the Community of European Railways as an effective lobbying organisation, he insisted that 'we need to co-ordinate all the interests of railway transport', adding that 'we need to take action urgently or we will face very serious problems'.
Yakunin announced that RZD had signed a memorandum of understanding with the six Central Asian railways, plus those of Finland, Estonia, Lithuania, Belarus and Ukraine, to develop the 1520 Strategic Partnership. Looking forward to a closer working relationship, he said RZD would be hosting a seminar in Moscow on February 14 to look at 'the creation of uniform monetary instruments' that will facilitiate private investment in the rail sector. RZD will also be hosting the next 1520 Forum at Sochi in May and a technical exhibition at Shcherbinka in September.
As the host of the regional forum, KTZ President Yerlan Atamkulov reported that he and Yakunin had signed a bilateral accord to develop transit container flows between China and Europe via Russia and Kazakhstan. RZD and KTZ plan to establish a joint working group by the end of January 2007 'to determine the optimal transit routes and analyse the probable volumes and structure of future freight shipments', with a particular focus on improving international connections and streamlining customs and border controls.n
CAPTION: Promoting closer links between broad-gauge railways: RZD Senior Vice-President for Strategic Development Boris Lapidus
CAPTION: Freight and passenger trains on Kazakhstan's electrified main lines are still largely hauled by a fleet of former Soviet VL80 locos
CAPTION: During the Almaty forum, represen-tatives from 12 railways signed a memorandum of understanding to develop a closer working relationship