The European market for international passenger services will be opened up to competition from January 2010. Murray Hughes investigates what preparations are being made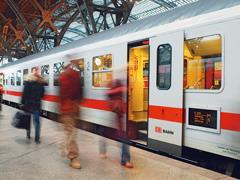 FROM JANUARY 1 2010 the market for international rail passenger services in the European Union will be opened up to competition. This mirrors the tentative start made in deregulating rail freight in 1991, when agreement was reached by the Council of Ministers in Luxembourg for groups of national railways to have the right of access to the tracks of other railways from 1993, with companies offering intermodal services enjoying the same rights.
Deregulation was initially limited to international services, and it was not until January 2007 that the market for domestic freight was opened up. Open access freight is now well established in many countries, with the floodgates opening in France last year after the national operator and the government had successfully engineered years of delay. German-owned EWS subsidiary Euro Cargo Rail is now expanding rapidly on French territory, and set up a Spanish company at the end of 2007.
'"International passenger service" shall mean a passenger service where the train crosses at least one border of a Member State and where the principal purpose of the service is to carry passengers between stations located in different Member States.'
Amendment to Directive 91/440 under Directive 2007/58
Deregulation of passenger services has been a long-cherished aim of Europe's transport politicians, and proposals were eventually incorporated into the Third Railway Package. Both the deregulation of passenger services and other elements in the package proved controversial, leading to repeated rejections as the formula was batted between the European Parliament and the European Commission. In the end 'conciliation agreements' were drawn up to the satisfaction of both parties, and the Package was finally agreed on September 25 last year. It includes provision for 'cabotage' traffic to be carried between two or more stations in one country on an international service.
Sparking most controversy was the intention to deregulate domestic passenger services. Even deferral until 2017 proved unacceptable, with opposition led by Austria, France and Belgium. For the moment, therefore, deregulation applies only to international services, but there is a commitment to assess the prospects for further deregulation measures, including domestic services, in a report to be submitted to the Commission by December 31 2012.
Airline competition
The rapid expansion of cheap air travel across Europe has had a serious impact on the rail business, and Directive 2007/58 - which is the legal basis in the Third Railway Package for opening up of the market - mentions 'strong competitive pressure from low-cost airlines', noting that 'it is therefore essential to stimulate new initiatives by promoting competition between railway undertakings'.
The point was emphasised by MEP Georg Jarzembowski after the final vote in Parliament: 'we hope that the railway undertakings will take the opportunity to present their passengers with consumer-friendly offers that will be competitive to air carriers. This would lead to a revival of the Community's cross-border railway transport and to a better environment.'
The last decade has seen substantial change in Europe's international passenger services. In many cases joint marketing or operating companies have been established, usually with special fares and ticketing that is not valid on other services (p90). In many cases this has made it more difficult to book international journeys - making the contrast with the ease of booking international air travel even more stark.
German ambitions
Among the national operators, DB has some of the most aggressive plans. Speaking in November last year, Head of DB Fernverkehr Nikolaus Breuel said that DB wanted to increase revenue from its international services from €200m to €300m a year by 2010. ICE trains already run into the Netherlands, Belgium, France, Switzerland and Austria, and from December the once troublesome diesel-powered ICE-TD trainsets were pressed into service to bring ICE standards to travel between Germany and Denmark.
DB considers deregulation to be 'an important step in the right direction'. The railway says it has always supported liberalisation of passenger traffic and maintains that the deregulation Directive in its current form 'does not go far enough - we had expected that it would apply also to domestic services'.
DB is now 'evaluating business options for the cross-border market'. This includes reviewing the services it offers with 'partner railways where in many cases there has been long and very fruitful co-operation.' Marketing alliances have been set up with Swiss Federal Railways, Austrian Federal Railways and Danish State Railways. The Alleo partnership with SNCF for services on TGV Est has quickly proved successful, and DB says that 'load factors on the Paris - Frankfurt route are 10% higher than on the average ICE in Germany'.
Planning for new services under the liberalised regime 'began long ago', and DB singles out the LGV Rhin-Rhône project (RG 9.07 p543) as being of considerable significance for new services it is proposing to serve the south of France. A tender for around 10 more high speed trainsets to work international routes has been under consideration for some time (RG 9.07 p521).
Media reports surfaced at the end of the last year about DB plans to launch a Köln - London service. Although 'there are no concrete plans', DB confirmed to Railway Gazette International that this was 'something we are looking at - we recognise it's a very attractive route.' A major obstacle exists in the form of restrictions on the type of rolling stock permitted through the Channel Tunnel - neither a single ICE nor a pair of trainsets would meet the current safety criteria.
Austrian Federal Railways also has ambitious expansion plans for international services, increasing its order for railjet trainsets from 23 to 67 last year. While many of these will work domestic routes, others are destined to reach Budapest, München and Zürich.
SNCF is clearly looking at the potential for international traffic too, and the most recent order for TGV Duplex trainsets (RG 8.07 p471) included a number of sets that will be equipped to operate in Germany, Luxembourg and Switzerland. SNCF already runs TGV services into Luxembourg and Switzerland, and the jointly-owned Thalys business operates a fleet of 27 TGVs that link Paris with Belgium, the Netherlands and Germany; DB has now taken a 10% stake in the Thalys operation
Once the new 44 km line is completed through the Pyrenees between Perpignan and Figueres, SNCF plans to operate TGVs into Spain. Services from Paris to both Madrid and Barcelona will become possible as soon as the final section of the standard gauge route is completed between Figures and Barcelona. A 5 h 30 min Paris - Barcelona timing has been mooted, and the long-term plan envisages Paris - Madrid in just 6 h.
Eurostar runs a unique operation linking the French, Belgian and British capitals, and this year it will start investigating what other destinations could be served in addition to its seasonal trains to Avignon and French winter sports resorts. It says it would like to run a London - Amsterdam service, but this would require the expense of fitting some of its fleet with ETCS Level 2 for operation on HSL-Zuid.
Eurostar confirms that it would 'welcome any competition' from 2010, pointing out that it already has serious rivals in the form of airlines on two of Europe's most competitive routes. At the moment it can be confident that any competing rail operator would find it well-nigh impossible to obtain rolling stock that meets the safety criteria for operation through the Channel Tunnel.
Italian market
Trenitalia is focused on the domestic market where imminent completion of the north-south Alta Velocità route from Milano to Napoli should prove ideal for high speed operations. A commitment to deregulate domestic passenger services has already spawned two potential private sector competitors - Nuovo Trasporto Viaggiatori and Rail One. NTV has made rapid progress towards a launch, signing a contract on January 17 with Alstom for a fleet of 25 AGV trainsets. Neither company has so far given any indication of planning international services.
Trenitalia appears to be taking the threat of rival operators seriously, and Italian media reports suggest that the national operator is planning to set up a subsidiary business to run its high speed services. A tender for 40 to 50 more high speed trains is expected to be called in the next few weeks.
Overnight services
Many of Europe's long-distance overnight trains have disappeared in recent years, partly because of air competition, partly because high speed day services have taken their place, and partly because of a reluctance to invest in rolling stock that meets the standards demanded by a more discerning clientele.
The exception has been DB, which invested €50m in a fleet of 42 new sleeping cars able to run at 200 km/h; these entered service in 2003-04. In December 2007 DB brought all its overnight services into the City Night Line brand, these include trains operated by DB Nachtzug and the CityNightLine trains which had originally been launched in a partnership with the national railways of Switzerland and Austria. City Night Line now has 29 services operating in nine countries, giving DB a strong basis for future expansion.
Hurdles
Any new entrant will face considerable obstacles in the international passenger business, with long-established agreements between national railways making it difficult to break into traditional markets. The capital cost of acquiring rolling stock will be a major hurdle, particularly if a private sector operator wishes to run high speed trains. It will be some years before second-hand high speed trains become available, the first fleet due for retirement being the TGV Sud-Est trains which have been in service for 26 years.
Any open access operator would cover all costs and keep all revenue - in contrast to the national railways which usually split both costs and revenue. Judging by what happened in the freight market, companies such as Veolia and Arriva may be among the first to explore the options. Both have amassed plenty of experience in running concessions in Germany, and Arriva launched a München - Praha service in December.
Of particular interest will be the evolution of the Railteam alliance which groups nine organisations involved in the operation of high speed trains, including Swiss Federal Railways and Austrian Federal Railways but excluding Trenitalia. By 2010, the Railteam members expect 25 million international travellers to be using their network. The project is very much about co-operation, with travellers promised easier connections and ultimately simpler bookings on the trains of different operators. Eurostar says it will concentrate this year on 'making Railteam work', the aim being to sell tickets for use on Eurostar and Thalys 'in a single transaction using a brokerage system'.
Incumbent railways will be anxious to ensure that newcomers do not enjoy unfair advantages, and Swiss Federal Railways, for example, is concerned that equal rights should apply to all operators.
The co-operation formula will be in force for many years to come, and it may well take the emergence of a rail equivalent of Easyjet or Ryanair to bring about a significant shift in the market.
International passenger operators and marketing organisations in Europe
Eurostar: Owned by SNCF, SNCB and LCR in the UK, Eurostar has run high speed passenger services between London, Brussels and Paris via the Channel Tunnel since 1994; 8·26 million passengers were carried in 2007.

Thalys: With capital owned 62% by SNCF, 28% by SNCB and 10% by DB, this Brussels-based company ran its first services in 1996, operating TGVs from Paris to Brussels, Amsterdam and Köln; traffic now amounts to more than 6 million passengers a year.

Alleo: A SNCF-DB subsidiary that operates TGV and ICE services via TGV Est between Paris and Frankfurt, Stuttgart and München.

Lyria: An SNCF-SBB subsidiary initially launched as an economic interest group (GEIE) in 1993, it is now a Société par Actions Simplifiée under French law and is responsible for commercial management on TGV services between Paris, Lausanne, Brig and Bern, and since 2005 for Paris - Genève. Following the opening of TGV Est in June 2007, it also handles the Paris - Basel - Zürich route. Ownership is 74% SNCF and 26% SBB.

Cisalpino: Since December 2005 this Trenitalia-SBB subsidiary has operated all daytime services between Switzerland and Italy.

Elipsos: A RENFE-SNCF subsidiary set up in 2001 to operate overnight Talgo trains from Madrid to Paris, and from Barcelona to Paris, Zürich and Milano. Previously the service had been run by an economic interest group.

Artesia: A Trenitalia-SNCF subsidiary based in Paris operating daytime TGV and overnight couchette and sleeping car services between France and Italy.

City Night Line: This is a brand covering overnight services operated by DB. They are jointly managed by Dortmund-based DB Autozug and Zürich-based CityNightLine CNL, both of which are 100% owned by DB Fernverkehr. DB's overnight trains currently run in nine countries.
Berlin-Warszawa-Express: This is a joint venture of DB and PKP running EuroCity services between Berlin and Warszawa with special fares.

Rheinalp: A marketing organisation set up by DB and SBB in January 2006 to promote rail services between Germany and Switzerland; it is based in Freiburg im Breisgau.

High Speed Alliance: A joint venture of Netherlands Railways and airline KLM, the company began operating international services from the Netherlands to Germany and Belgium in December 2007 under the NS Hispeed brand. HSA plans to operate high speed services between Amsterdam and Brussels once HSL-Zuid is opened. It will co-operate with SNCB and SNCF to provide services to and from Paris.
Potential private sector operators of international services
Veolia Transport: French-owned Veolia operates an 82 km regional service between Berlin and Polish destinations. The company also has several regional concessions in Germany and runs a domestic open access service under the InterConnex brand; this links Leipzig and Berlin with Rostock and Warnemünde.

Arriva: The group has experience with rail operations in Denmark, the UK, Germany, Sweden and the Netherlands. From December 2007 it has run regular services from München to Praha in the Czech Republic under a 'classical agreement' with Czech Railways.

Air France-KLM: Reports surfaced in mid-2007 of a proposal to launch against Eurostar with passenger services through the Channel Tunnel, possibly in partnership with a British franchisee.

FirstGroup: The group has no plans to run international open access services, but in June 2007 the company won a concession to operate rail services between København and southern Sweden via the Øresund fixed link in partnership with DSB.

Keolis: A well-established French contract operator for public transport.
Nuovo Trasporto Viaggiatori: This Italian rail operator, which obtained an operating licence in February 2007, has signed a contract with Alstom for 25 AGV trainsets. Services proposed are initially limited to domestic routes.

Rail One: Carlo Toto, an Italian businessman who launched airline Air One, is behind this Napoli-based company which plans to compete against Trenitalia between Roma and Napoli from 2009.

The Train Company: operates a weekly seasonal overnight train from between Brussels and the Austrian Alps.

The Association of European Passenger Train Operators was formed 18 months ago to co-ordinate the interests of private-sector companies in Europe. Members are Arriva, FirstGroup, Veolia, Barraqueiro, Keolis, National Express, Stagecoach, Transdev and Transdev-Connexxion.