The dedicated freight route running for 160 km between the port of Rotterdam and the German border finally welcomed its first commercial services on June 18.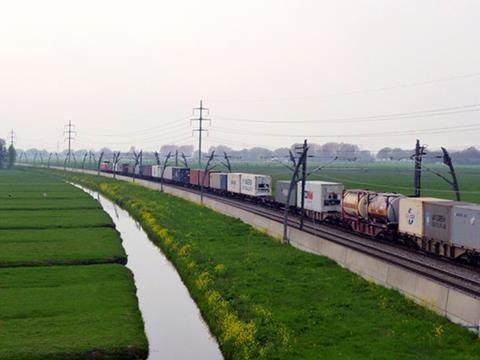 QUEEN BEATRIX of the Netherlands formally inaugurated the Betuwe Route freight corridor on June 16. In a ceremony at Barendrecht she signalled a special train to depart from Rotterdam's Kijfhoek marshalling yard.
The inaugural train had been due to run as far as the junction at Valburg, south of Arnhem, but in the event was only able to run a symbolic 200 m, as environmental activists from the Green Front had chained themselves to the track at six locations.
Commercial services started two days later when rail4chem operated the first train along the route, departing Kijfhoek at 07.30. Railion, rail4chem and Veolia Cargo are operating up to 12 trains in each direction daily, carrying consignments including grain, coal and ore.
Much of the new double-track line runs parallel with the A15 motorway, and the route is expected to reduce the number of lorries using this congested highway. It is the first line in the Netherlands to be equipped with ETCS Level 2 and 25 kV AC electrification, and has 18 km of tunnels and 12 km of bridges and viaducts. It can accommodate axleloads of up to 25 tonnes and has a maximum speed of 120 km/h.
When fully operational from July 2008 - following the commissioning of ETCS Level 2 signalling and the introduction of electric traction - the Betuwe Route is expected to accommodate up to 10 trains/h in each direction. Meanwhile, Transport Minister Camiel Eurlings expects that during the remainder of 2007 traffic will be at the modest level of one diesel-hauled train every 2 h in each direction.
Infrastructure manager Keyrail - a joint venture of ProRail with the Rotterdam and Amsterdam port authorities - has already received inquiries from other freight operators seeking to run up to 70 trains a week. These include ACTS, DLC, ERS Railways, HGK, B-Cargo and Fret SNCF as well as new entrants ITL-Benelux and Rurtalbahn.
This level of interest comes as something of a surprise after proposed high access charges and other factors saw freight operators adopt a somewhat lukewarm attitude towards the project. With the charges now set at the same €1·15 per train-km as applied on the existing network, ITL-Benelux Commercial Director Gertjan Boot expects demand for paths on the Betuwe Route to increase steadily as the road network becomes more congested and water levels on the Rhine waterways become less dependable.
The national rail freight umbrella organisation Rail Cargo anticipates that the Betuwe Route will earn around €5m in access fees during 2008 as the first full year of operation, compared to operating costs of €17m break-even is not expected before 2013 even if traffic levels build up as predicted.
Diesel debut
With limited train control capacity in place pending completion of the ETCS Level 2 equipment, Keyrail says it has 12 train paths per day available at 2 h intervals, although for the first few months some time will be reserved for 'finishing touches'. By the opening date, six paths per day had been allocated, but some operators were still awaiting a formal response to their applications.
Railion has secured two paths a day which it expects to use principally for coal traffic, hauled by locos drawn from its pool of 22 Class 6400 units equipped with ETCS. Electrification equipment on the Betuwe Route is not expected to be energised until later this year, and approval of Railion's 26 Class 189 locos equipped to operate on 25 kV 50 Hz AC, 3 kV DC and 1·5 kV DC as well as 15 kV 16 2/3 Hz AC is also running behind schedule (RG 4.07 p194). By December, Railion hopes to have sufficient numbers of these locos available to take full advantage of the up 50 train paths that will be provided each day. Other traffic including ore and containers is in prospect, and Railion is aiming to divert hazardous cargoes such as chemicals onto the Betuwe Route as soon as possible, away from built-up areas along the existing route between Germany and Rotterdam.
Veolia Cargo has reserved one train path daily in each direction to divert coal traffic off the existing network. Its cautious approach stems from concerns over the potential bottleneck where the Betuwe Route connects with DB metals and how Keyrail handles delays on the new line. Provided approval is granted soon, Veolia plans to use Class 66 diesels (or possibly Vossloh G1206 and G2000 units) until the current is turned on and it can deploy its Class 189 and Traxx F140MS electric locos.
Rail4chem has requested between two and three paths daily in each direction for grain movements, which would initially be hauled by G2000 diesels fitted with Alstom ETCS equipment. Once testing and acceptance have been completed, G1206 locos equipped with Bombardier ETCS will be deployed. Although one of its Class 66 locos has begun ETCS testing, ACTS has decided that it cannot yet operate commercial services over the Betuwe Route, citing capacity restrictions during the start-up phase.