Roger Ford reviews progress with smart ticketing in the UK heavy rail market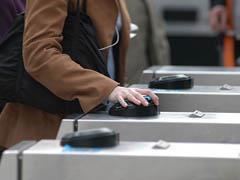 SMART card ticketing is already a mature technology in the UK, with active schemes ranging from concessionary travel on local buses to Transport for London's multi-modal Oyster system which now has 6 million cards in use. The Department for Transport is now seeking to extend smart cards to urban and main line trains across the country, based on the national ITSO standard which it has sponsored.
Originally known as the Integrated Transport Smartcard Organisation, operator and industry body ITSO is responsible for a suite of specifications and standards which together define the various aspects of an interoperable smart card system. This includes both hardware and software, from point-of-use card readers to the back-office systems which handle the accounts and allocate revenue.
A central feature is the security key system, specified by ITSO to define the applications which can be loaded onto smart cards produced by third-party suppliers. The standards cover eight different types of media, running from low-cost single-use cards, through the Mifare 1K and 4K smart cards to top-of-the-range microprocessor cards.
Interoperability means that a card from one transport authority or operator can be loaded with a 'product' - smart card-speak for a ticket facility - from another, and used seamlessly on both networks. The ITSO back offices of the two authorities can then allocate and transfer revenue.
World of Oyster
Britain's dominant transport smart card application is Oyster, developed under the UK's largest Private Finance Initiative contract by the TranSys consortium of EDS, Cubic Corp, ICL and WS Atkins.
Oyster has been a success for TfL, which is using differential pricing to encourage card use, with the ultimate aim of having a cash-free transport network.
On December 13 TranSys announced that Barclaycard had been issued with a license granting exclusive rights to place Oyster on its Visa credit cards for three years. Trials will begin in early 2007, and discussions have been held with third-party manufacturers regarding the licensing of Oyster for mobile phones and watches. However, last year TfL abandoned a scheme being developed in conjunction with a major bank to extend Oyster's capability to include an 'electronic purse' to pay for small purchases such as newspapers and refreshments.
TfL has provided Oyster sales facilities and card readers on ticket gates at stations which London Underground shares with National Rail operators. Elsewhere on National Rail within London the take-up by train operators has been relatively low, in part because of the need to install ticket gates at stations.
ITSO arrives in London
Meanwhile DfT, as sponsor of ITSO, is actively seeking to introduce interoperable smart card ticketing to National Rail services, starting with London. This has involved political negotiations with TfL over the cost of making Oyster compatible with ITSO.
In May 2006 agreement was reached on the extension of the pre-pay facility on Oyster cards to all National Rail stations in TfL Zones 1-6. TfL is funding the £15m cost of the hardware, while DfT is paying £19m for the upgrade of Oyster to accept ITSO products.
Transport Secretary Douglas Alexander said that the deal laid 'the foundation for a national integrated ticketing scheme that will mean more flexible, quicker and simpler tickets for all public transport passengers'. Mayor of London Ken Livingstone saw it somewhat differently. The potential extension of Oyster to all 310 Zone 1-6 National Rail stations, compared with the current 60, was 'a massive step towards a fully-integrated ticketing system in London'.
Oyster's pay-as-you-go facility could become available on National Rail services during 2008. However, train operators are not compelled to equip their stations, although commuter operator c2c has gates at all but one of its stations and sees extending Oyster coverage beyond the TfL Zones to encompass its relatively small network as a commercial benefit.
DfT's next step was to obtain a commitment from a London commuter operator to implement ITSO cards, and an opportunity was provided by the letting of the South Western franchise.
Awarded to incumbent operator Stagecoach on September 22 2006, the franchise agreement includes a commitment to introduce ITSO-compliant smart cards across its routes by 2009. Stagecoach puts the cost of this at £19m. The new ticketing systems will also be able to accept TfL's existing Oyster products at stations within the London fare zones, where passengers on South Western services will be able to use either Oyster pre-pay or Stagecoach's ITSO-based cards. This raises a number of technical and commercial issues. In addition to making the Oyster and ITSO back offices interoperable, the cards will have to interface with the rail industry's existing accounting and revenue-allocation system operated by the Rail Settlement Plan subsidiary of the Association of Train Operating Companies.
Beyond London
DfT Rail has now made ITSO a requirement of the three rail franchises which are currently being let, and the different requirements for each franchise illustrate the problems faced when extending what are essentially urban smart cards to the national network.
The new West Midlands and East Midlands franchises will include services to London, with the Birmingham-centred West Midlands franchise including the former Silverlink commuter services into London Euston station.
Bidders are required to price the roll-out of ITSO within the franchise, and also the cost of accepting Oyster products in the London area. Centro, the West Midlands Passenger Transport Executive, is yet to commit to an ITSO system for local buses and Midland Metro trams.
The East Midlands franchise will include inter-city services out of London St Pancras which are currently operated by Midland Main Line. Bidders are also required to price ITSO roll-out, but there is no mention of Oyster, because the first stop at Luton Airport Parkway is well beyond the London zones.
An emerging challenge is the ability of ITSO or Oyster smart cards, intended for short journeys and concessionary pass use, to handle longer and more expensive journeys. ATOC sees limitations with ITSO when it is used for journeys across franchise borders, rather than within a franchise and into London.
The third franchise, New CrossCountry, is required to accept ITSO only when the trains are running within the South Western franchise area.
Telephone trends
The processing capabilities of smart cards are relatively primitive in comparison with mobile telephone technology, which continues to develop. As a result ATOC has commissioned ATOS Origin and Kizoom to evaluate proposals for what is termed ticket-to-mobile technology. A parallel study covering the development and evaluation of technologies for home printing of tickets is likely.
Ticket-to-mobile would encourage the use of advanced-purchase tickets, a key element in peak travel demand management. But it could also be used to buy walk-on tickets, and would be able to accommodate the purchase of high-value tickets by charging them to the mobile phone account.
Fulfilment is a key issue in remote ticket sales, where tickets are still commonly posted to the user.
Ticket on Departure machines enable passengers to collect pre-purchased tickets using a credit card. They are in use with 18 UK train operators, with machines installed at 350 locations, and issue 4·6 million tickets a year, representing 6% of all ticket sales.
Instant delivery can be achieved by allowing passengers with an internet connection to print their own tickets at home, and the Print@Home service provided by ticket retailer The Trainline is already being used by MML, One and Virgin Trains.
Mobile phones further simplify remote ticket sales, offering a range of techniques for validating ticket-to-mobile sales. These include text messages with identity codes, or the display of bar codes which can be read by scanners on ticket gates. However, the growing connectivity available within mobile phone technology offers even more attractive solutions.
DfT Rail is funding two research programmes into mobile ticketing during the coming year. One is concerned with trials of Near Field Communication technology in mobile phones, which uses a secure wireless link operating over a distance of a few centimetres. A suitable phone could be used to sell and validate tickets, and DfT will sponsor tests of NFC-equipped mobile phones as carriers of transport tickets, being loaded with the same 'product' as an Oyster or ITSO card.
A desk study will look at the scope for Be In-Be Out systems to be applied to payments and ticketing in the UK public transport market. A BIBO-equipped mobile phone communicates by wireless with the vehicle, and as the passenger boards the phone is allocated to that vehicle with an electronic 'stamp'. Nothing more happens until the doors close and the vehicle moves off, at which point the 'ticket' on the phone is collected. There is a similar process when the user alights and the fare is calculated. As with a smart card, the mobile could operate on a pre-pay basis.
CAPTION: Agreement has been reached for all rail stations in London to be equipped with Oyster-compatible card readers
Photos: Cubic Transportation Systems
CAPTION: TfL has introduced differential pricing to encourage passengers to switch from cash to Oyster. From January a single London Underground journey in the central Zone 1 will cost £4 with cash payment or £1·50 by Oyster
CAPTION: Cubic Transportation Systems is supplying FasTIS + Oyster ticket issuing equipment to Rail Settlement Plan, a subsidiary of Britain's Association of Train Operating Companies. The £2m contract will enable 25 stations shared by rail operators and London Underground to issue Oyster smart card products