Siemens is to supply eight Velaro RUS high speed trains to Russian Railways for services from Moscow to St Petersburg and Nizhniy Novgorod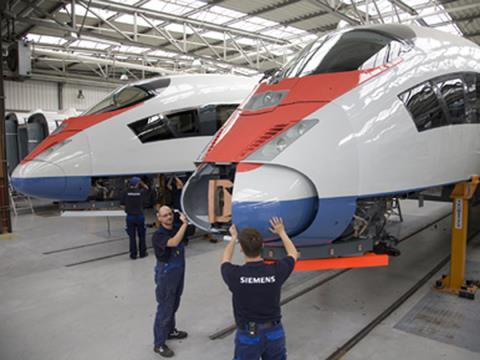 Alexander Nazarov, First Director of the Technical Policy Department at OAO RZD.
Oleg Nazarov, Deputy Director, All-Russian Railway Research Institute
Marion Protze, Project Director, High Speed CIS, for Siemens AG
IN 2009 PASSENGERS on the flagship Moscow - St Petersburg route will be the first in Russia to ride the Velaro RUS. A broad-gauge version of Siemens' Velaro design, the stylish high speed train will bring unprecedented standards of speed and comfort to Russian tracks.
Russian Railways (OAO RZD) and Siemens AG signed a contract on May 18 2006 under which the German company will develop and deliver eight high speed trainsets. They will be deployed on the Moscow - St Petersburg and Moscow - Nizhniy Novgorod lines. The two companies are currently negotiating a related contract valued at around €300m under which Siemens will maintain the trains for 30 years.
High speed rail services began in Russia in 1984 over the 650 km route between Moscow and St Petersburg using Russia's own design of high speed train, the ER200. This was permitted to run at 200 km/h, introducing a 4 h 39 min timing between the two cities in 1986. Since then the line has been improved and the track upgraded, and on August 5 2006 journey times between the two cities were cut to just 3 h 55 min, with daily services at 200 km/h provided by three ER200 sets and one Nevsky Express working hauled by a ChS200 twin-unit locomotive.
With the benefit of 20 years of experience in operating its own high speed trains, in 2005 OAO RZD drafted a programme for development of its express and high speed services. This called for a gradual increase in line speed from 160 km/h to 250 km/h on eight principal inter-city corridors: Moscow - St Petersburg, St Petersburg - Buslovskaya, Moscow - Smolensk, Moscow - Nizhniy Novgorod, Moscow - Kursk, Rostov - Mineralnye Vody, Krasnodar - Mineralnye Vody and Omsk - Novosibirsk.
The programme also called for development of a new design of high speed trainset. Research determined that 60 trainsets would be needed with various power ratings and speed maxima: 3 kV DC and 3 kV DC/25 kV AC dual-voltage units with top speeds of 160 km/h and 250 km/h as well as a 25 kV AC version able to run at a maximum speed of 350 km/h.
Comparison of Velaro RUS with Velaro E
| | Velaro RUS | Velaro E |
| --- | --- | --- |
| Gauge mm | 1520 | 1435 |
| Configuration | 10 cars | 8 cars |
| Overall length m | 250 | 200 |
| Car width mm | 3265 | 2950 |
| Car body material | aluminium | aluminium |
| Maximum axleload tonnes | 17 | 17 |
| Power supply | 25 kV AC | 3 kV DC 25 kV AC |
| Powered axles | 8 | 8 |
| Nominal power rating kW | 8000 | 8800 |
| Starting tractive effort kN | 380 | 283 |
| Design speed km/h | 250 | 350 |
| Temperature range | -50°C to +40°C | -20°C to +50°C |
Standards agreed
The technical requirements for high speed trains laid down in 2005 by OAO RZD in partnership with Russian scientific research centres led by the All-Russian Railway Research Institute (VNIIZhT) determined many of the design features of the Velaro RUS. Of major significance were Russia's harsh winter conditions, the gauge of 1 520 mm, and the need for compatibility with existing infrastructure. The TSI interoperability specification that is common in European countries could only be applied to Russian railway routes with a number of major exemptions.
OAO RZD's market analysis of production high speed trains showed that the trainsets built by Siemens on the basis of its Velaro platform were the closest match for Russian conditions. Originally developed as the ICE3 for Deutsche Bahn, the Velaro was subsequently ordered as the AVE S103 for Spanish National Railways and the CRH3 for Chinese Railways. Thanks in part to Siemens' broad international experience, the Velaro platform proved to be flexible enough to be adapted to the Russian requirements, and the Velaro RUS was born.
Agreeing technical standards for the new train was quite a challenge. Experts on both sides addressed the issue, suggesting ways to adapt the Velaro equipment or modify the requirements so that Russian standards were still met. In some cases Russian experts proposed their own design changes which were then adopted by their Siemens counterparts.
Two versions
In a first step, four trains to operate under 3 kV DC catenary will be built to run at a speed of 250 km/h on the Moscow - St Petersburg line. They will be followed by four dual-system trains for the Moscow - Nizhniy Novgorod route, but they are also intended, after minor modifications, to be able to run at 300 km/h on the dedicated high speed line being planned between Moscow and St Petersburg (p719).
To meet the capacity requirements for service on the Moscow - St Petersburg route, the new trains must each accommodate 600 seats. This meant increasing the number of cars per train from eight to 10 (Fig 1).
The 10-car trains are 250 m long. With a car body width of 3 265 mm, these trains are, like the CRH3 units for Chinese Railways, much wider than similar trains operating in Western Europe. Each set will seat 604 passengers, 104 of them in business class.
Project planning and production will be carried out in Erlangen and Krefeld in Germany. The production schedule calls for completion of the first train by the end of 2008, with the remaining units following at intervals of two months. The first trains to be delivered will undergo a programme of tests that will culminate in certification to operate on the OAO RZD infrastructure in compliance with Russian legislation. Four trains are due to enter scheduled passenger service at the end of 2009 on the Moscow - St Petersburg route, with the dual-system trains commencing to serve the Nizhniy Novgorod route in 2010.
Siemens will be responsible for carrying out preventive maintenance at the existing depots in St Petersburg, Moscow and Nizhniy Novgorod and for ensuring contractual availability of the trains. Employment of Siemens-trained OAO RZD personnel is also planned.
Winterisation
The specific Russian conditions meant that a number of changes to the basic Velaro design were necessary. For example, design modifications were needed in the bogie area because of the 1 520 mm gauge.
To meet the specifications for mechanical strength at temperatures down to -50°C, special steel grades and materials must be used. This applies to all exterior components and especially to fastening elements, rubber gaskets and seals, and also to plastic components.
The climatic conditions in Russia with sub-zero temperatures, ice and snow also demanded redesign of the underfloor area to avoid snow and ice building up. All underfloor components have to be fully sealed.
Roof equipment will also be modified. The pantograph will be equipped with pneumatic short-stroke cylinders that will enable the pan to break loose should it become frozen in the lowered position. In addition, a roof intake will be provided for the traction equipment cooling air as an intake below the floor would risk being blocked by snow.
The Russian standards governing mechanical strength call for special stability and vibration tests to be carried out, and a buffing impact test will also be needed.
Cab redesigned
A characteristic feature of the Velaro end car is its narrow shape that is streamlined to give good aerodynamic performance at high speed. This was possible as both Deutsche Bahn and Spanish National Railways had specified a cab with a single operator.
However, the Russian standards require that space be provided for an assistant driver. In addition, as with the UIC651 requirements in Europe, the driver's console has to permit operation from a standing position.
For this reason, a major challenge confronting the designers was how to retain as much of the aerodynamically optimised shape of the end car as possible, while at the same time enabling the driver to operate the console standing up. The result is shown in Fig 2.
Further challenges arising during the development phase include compliance with the Russian electromagnetic compatibility regulations for the radio equipment and operations control system as well as compliance with sanitary and hygiene laws.
---
Photo: A full-size mock-up of the end car of the Velaro RUS is on display at the Moscow terminal in St Petersburg
Photo: Interior layout of the mock-up vehicle, showing the Business class seating layout
Fig 1. Block diagrams showing the basic formations and equipment layout for the four 3 kV DC trainsets (top) and the four dual-system units (lower)
Fig 2. The aerodynamic styling of the driving car ends has had to be redesigned, as RZD expects to operate its trainsets with a driver and assistant in the cab
Le parc Velaro à voie large relance le programme de la grande vitesse en Russie
Selon un contrat signé en mai 2006, Siemens va livrer huit rames à grande vitesse Velaro RUS de 10 voitures aux chemins de fer russes, pour les services de Moscow à St Petersburg et à Nizhniy Novgorod qui commencent en 2009. Quatre rames seront destinées à l'exploitation sous 3 kV continu jusqu'à 250 km/h tandis que quatre autres seront bicourants et capables de rouler à 300 km/h. Le concept commun des Velaro s'est montré suffisamment souple pour accueillir des changements significatifs incluant les adaptations nécessaires pour être compatible avec les 1 520 mm de la voie et les mesures hivernales pour affronter des températures aussi basses que -50°C. L'équipe de conception russo-germanique a également dû faire face à plusieurs défis en créant un train qui intègre les normes techniques russes
Breitspur-Velaro als Neustart von Russlands Hochgeschwindigkeits-programm
Gemäss einem im Mai 2006 unterschriebenen Vertrag liefert Siemens acht Velaro RUS 10-Wagen-Hochgeschwindigkeitszüge an die Russischen Bahnen für Einsätze zwischen Moscow und St Petersburg sowie Nizhniy Novgorod, beginnend 2009. Vier Züge werden für 3 kV Gleichspannung und Höchstgeschwindigkeit 250 km/h geliefert, und vier weitere Züge mit Zweispannungausrüstung und Höchstgeschwindigkeit 300 km/h. Die Velaro-Plattform zeigte sich ausreichend flexibel, um die verschiedenen konstruktiven Anpassungen auszuhalten, welche die Anpassungen an die russische Spurweite von 1 520 mm und Massnahmen zur Winterfestigkeit mit Temperaturen bis zu -50°C umfassten. Das deutsch-russische Konstruktionsteam hatte zudem verschiedene Knacknüsse zu behandeln, welche die Anpassung der Züge an russische Normen betrafen
El Velaro de vía ancha relanza el programa de alta velocidad de Rusia
Siemens suministrará ocho trenes de alta velocidad Velaro RUS de 10 coches a los ferrocarriles rusos bajo un contrato firmado en Mayo de 2006 y que darán servicio en las rutas de Moscow a St Petersburg y Nizhniy Novgorod a partir de 2009. Cuatro de los trenes tendrán una tensión de alimentación de 3 kV CC con una velocidad de 250 km/h y los cuatro trenes bicorriente serán capaces de alcanzar los 300 km/h. El diseño Velaro ha demostrado tener una plataforma lo suficientemente flexible como para que en ella se puedan implementar cambios significativos entre los que se cuentan la adaptación al ancho de vía ruso de 1 520 mm y medidas especiales para el invierno, pues los trenes deberán soportar temperaturas de hasta -50°C. El equipo de diseño ruso-germano también se ha enfrentado a diversos retos en el desarrollo del tren de acuerdo a las normas técnicas rusas