LONDON: Network Rail has begun work on the long-planned upgrade of the Thameslink cross-city route, where tendering is now in hand for major works due to commence in January. Under a two-stage programme costing a total of £5·5bn, platforms will be lengthened to accommodate 12-car trains operating at a frequency of up to 24 trains/h through the central core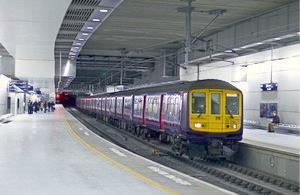 Once known as Thameslink 2000, the project to increase capacity on the route crossing London from north to south from St Pancras to Farringdon, Blackfriars and London Bridge is now scheduled to be completed by the end of 2015. In addition to rebuilding stations and extending platforms to accommodate 12-car trains, the Thameslink Programme will also involve resignalling and the procurement of new rolling stock to serve a wider network of destinations in southeast England.
Phase 1 of the programme is due for completion by December 2011 and includes platform lengthening at 23 stations between Bedford and Brighton, to be undertaken during planned possessions for maintenance work. The stations include Luton Airport Parkway, where the project was officially launched on October 24 2007 in the presence of Transport Minister Tom Harris and Network Rail's Thameslink Programme Director Andrew Mitchell. The event marked, according to Mitchell, 'the start of a long sought-after scheme which will deliver what passengers need; more seats, less crowding, more direct services and better connections in London.'
Major works under Phase 1 include the rebuilding of Farringdon and Blackfriars stations in central London to accommodate 12-car trains and increased passenger flows. At Farringdon, also to be served by the east-west Crossrail route, this will require the closure of the branch to Moorgate with effect from December 2008. Blackfriars is to be comprehensively rebuilt, with platforms extended under cover along the bridge over the Thames to a new entrance on the south bank.
Key to the project is a new double-track viaduct through the Borough Market area to the west of London Bridge station, which by accommodating services to and from Charing Cross will free up the existing tracks for more frequent Thameslink services. Due to commence in January 2009 for completion by the end of 2011, construction will involve the off-site fabrication of a 70 m span which will be lifted into position over Borough High Street.
New trains to serve new routes
Under Phase 2 of the programme, London Bridge station is to be rebuilt and the track layout remodelled following the Olympic Games in 2012. This will provide more through platforms to accommodate Thameslink services. The station presently has six through and nine terminating platforms, but these numbers will be reversed in the new design. Late in 2012, work is due to begin east of the station on a dive-under at Bermondsey and a flyover at Tanners Hill near New Cross to segregate conflicting movements.
These works will enable Thameslink services to operate to new destinations south of the Thames including Dartford and Ashford, as well as East Grinstead, Guildford, Horsham, Littlehampton and Eastbourne. The Department for Transport is due to undertake public consultation on the routes to be served by the future Thameslink franchise during 2013. The present Thameslink/Great Northern franchise expiring in March 2015, operated by FirstGroup plc as First Capital Connect, already includes the routes to Peterborough and King's Lynn. These will be joined to the Thameslink route under Phase 2 via tunnels north of St Pancras constructed, but not fitted out, as part of the Channel Tunnel Rail Link project.
Until work to ease the London Bridge bottleneck is completed, there will be insufficient capacity on the core section to run additional services to new destinations. To accommodate up to 24 trains/h, resignalling of the central core would also be required. Network Rail says there are no plans to install ERTMS as part of the upgrading programme, however.
The Department for Transport says the completion of Phase 2 in December 2015 and the addition of new routes to the Thameslink network will require the introduction of up to 1 300 new vehicles. Expected to be built to the next-generation EMU design to be developed under DfT's Rail Technical Strategy, this large fleet would need to be phased into service 'over a period of time in advance of 2015', with procurement likely to be led by DfT during the initial stages.
CAPTION: Amongst the most challenging engineering tasks will be to create a new viaduct across Borough Market.
CAPTION: Blackfriars station is to be extended to create an entrance on the south side of the Thames.
CAPTION: Blackfriars' northern entrance and the Underground interchange are to be radically rebuilt.
CAPTION: Able to accommodate 12-car trains, platforms for Thameslink services were brought into use under St Pancras International on December 9 2007, replacing cramped facilities at King's Cross Thameslink that did not meet current accessibility standards. The new station costing £70m was built by Union Railways (North) as part of the Channel Tunnel Rail Link project. Photo: Brian Morrison