The Kazakh government has integrated the three distinct rail networks it inherited at independence, and is now introducing reforms to encourage private-sector investment and reduce the need for domestic services to cross international borders, explains Gordon Feller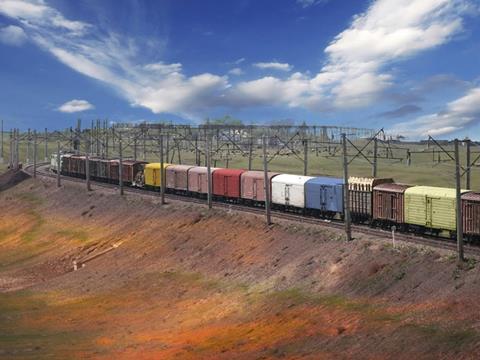 It has been said that Kazakhstan's economy is more dependent on railways than anywhere else in the world. In a vast country with export industries based on bulky raw materials, rail carries 71% of the nation's freight and 61% of its passenger traffic.
On independence in 1991 Kazakhstan inherited a well-developed network, and today 28% of the 13 431route-km is electrified. The lines had been under the control of three separate Soviet regional railway administrations, but were unified in 1997 under state-owned Kazakhstan Temir Zholy, supervised by the Ministry of Transportation and the Ministry of Finance.
KTZ is performing well financially. In 2002 it reported a net profit of 15·8bn tenge, up 36% from 2001. In the same period freight traffic totalled 133 billion tonne-km, with revenue growing 9·8% to 156bn tenge. Coal, iron, other ores and construction materials accounted for around 75% of tonne-km, but the volume of oil products transported by rail fell by 5·6% as new pipelines came on stream.
There was a 6·7% drop in export freight tonne-km in 2002, but domestic, import and transit freight traffic increased by 0·4%, 2·9% and 10·6% respectively. Transit traffic between Russia and China totalled 16·8 million tonnes, better than the projected 15·4 million tonnes. In 2003 KTZ is expecting a 5·1% increase in tonne-km to 141·1 billion. Domestic freight movement by rail is expected to grow 5·9%, export traffic by 2·4%, imports by 18·7% and transit by 4·9%. During 2002 there was a 0·6% increase in passenger-km, to 10·45 billion. A slight fall to 10·3 billion passenger-km is expected this year.
Changing needs
Despite the financial good news, KTZ needs to adapt to the change in national transport requirements since independence, and the process is already in hand. On June 4 2001 the government approved a major restructuring programme to reduce operating costs and encourage private-sector investment.
KTZ was converted into a closed joint stock company (ZAO KTZ) in March last year. Introduction of modernised accounting and information management methods will give the railways better control over costs, and access to reliable and up-to-date operational and financial data will be particularly important in revising the tariff structure.
Ownership and operation of infrastructure, signals and rolling stock will remain with the state, but non-core assets are to be privatised or divested. Social assets including schools, hospitals and housing have been transferred to local authorities, and track maintenance and rolling stock maintenance are now being privatised.
A new company will be formed to run passenger services; this will continue to receive government subsidy to maintain low fares and provide guaranteed minimum levels of passenger service. KTZ is still the country's largest employer, with around 150000 staff, but the payroll will fall as many employees are transferred to the private sector. For example, the locomotive maintenance arm is to be established as a joint stock company by 2006.
The dominance of bulk commodities makes KTZ vulnerable to cyclical external markets, with much of the freight tonnage being carried in unit trains between plants owned by a single company, for example coal moved between Ispat Karmet's mines and the steel plants at Temirtau, near Karaganda. From 1991 the mining and metallurgical industries ran up substantial debts with the railways, and though these are now mostly clear, some large rail users still have occasional difficulty in paying transport costs, especially if they are themselves owed money by customers.
In another instance, the government suspended Tajikistan- Russia transit services on June 10 2001, citing unpaid Tajikistangovernment debts.
The powerful economic influence of extractive industries in this mineral-rich country allows them to apply pressure on the government to impose artificial caps on freight rates, in effect subsidising the industry. This has provided the national economy with valuable stability, but has left KTZ unable to make badly-needed investments.
The restructuring programme includes the establishment of competing freight businesses, creating the possibility of mining firms and other major rail users purchasing their own wagons. They would in this way be able to acquire highly-specialised designs, and would lease track and locomotives from the government. By 2005 mining companies could operate 15% of domestic coal, ore and metals traffic, and between 5% and 10% of the export business.
It is expected that putting the railways on a commercial footing and creating competition will lead to better service and lower prices. In practice, cost reductions will take some time to work through to the customer. If the government seeks to recover full marginal costs, prices could increase in the short term. Normalising the regulatory relationship will mean the national anti-monopoly authority will no longer be justified in imposing price caps, except as required by political decisions.
Investment
In the last 10 years there has been little investment to replace life-expired assets. This is not sustainable in the longer term, and serious investment is now required.
In March KTZ announced plans to triple capital investment this year to 42·3bn tenge. Last year's investment of 14·8bn was 20% less than planned. Around 60% of the funds are allocated for infrastructure modernisation, including renewal of electrification equipment on the Kazybek-Bek-Almaty-2 route and electrifying the Ekibastuz - Pavlodar section.
There is a shortage of spare parts, as 95% of the current equipment was sourced from Russia, Ukraine and elsewhere. A legacy of the Soviet Union was excess capacity in the rolling stock fleet, and combined with a fall in traffic this has allowed KTZ to keep the trains running by cannibalising surplus stock. In 1997 consultants Gibb Rail found that less than half the wagon fleet saw regular use. In early 2002 only 1254 of KTZ's 1833 locos were operational.
It is estimated that over US$4bn in new investment will be required over the next 14 years, a difficult, but not insurmountable challenge. Traffic might increase as the region's economies develop, but it is unlikely that freight traffic will reach pre-independence levels. Tariffs per tonne-km are low by international standards, but they have already been raised and any further increases could affect the competitiveness of Kazakh businesses. Direct government subsidy is seen as inconsistent with the market economy philosophy embraced by the government.
Credit agreements with Japan's OECF fund have been arranged to fund modernisation of the Aktogay - Druzhba line, Druzhba station, Almaty maintenance works and construction of a bridge over the Irtysh River in Semipalatinsk.
On November 8 2002 a memorandum of understanding was signed with ABN Amro to develop a long-term strategic partnership to finance infrastructure reconstruction and rolling stock acquisition. Russian government debts for the lease of the Baikonur Cosmodrome are being used to fund rolling stock purchases. A total of 492 km was rehabilitated in 2002.
In 2002 KTZ called tenders for the supply of locomotives, and a US$190m deal has been signed with China Locomotive & Rolling Stock Industry Corp. Two Dong Feng diesel locos with General Electric traction packages will be imported from China, and a further 150 will be assembled at Chu in southern Kazakhstan by 2009. In March this year KTZ announced plans to import 411 grain wagons worth 1bn tenge.
Last September services began with a six-car Talgo 200 trainset intended to run at up to 140 km/h on the 1350 km Almaty - Astana route and the Almaty - Chimkent line. On test since 2000, it was supplied using a US$27·4m soft credit loan with eight-year maturity supported by the Spanish government. A further four carriages are being supplied to lengthen the set. Options for another two Talgo Pendular trains of 22 vehicles customised for overnight services in the Kazakh climate have been exercised, and the trains are expected to start running from September. Tulpar-Talgo was formed as a 50:50 joint venture by Remvagon and Talgo Deutschland GmbH to maintain the Talgo trainsets.
A digital communications network is planned, and a 283 km optic fibre link has already been installed between Arys and Chiili at a cost of 530m tenge.
Avoiding borders
The rail network was designed to transport raw materials for processing elsewhere in the USSR, and as a result the generally south-north orientation of the network does not provide ideal routes between producers and customers within today's national borders. Freight tonne-km in Kazakhstan fell by more than 70% between 1990 and 1996, a major factor being the disruption of established trade and transport patterns, and attempts by each emerging nation to become self-sufficient.
The Kazakh government is now undertaking a programme of new line construction to eliminate the need for domestic traffic to cross the frontiers.
Work on the 184 km Aksu - Konechnaya line providing a direct link between the north and northeast of the country began in 1998, and the 6·5bn tenge route opened to traffic in June 2001 (RG 8.01 p497).
Tracklaying on the 449 km link between Donskoye and Krasno-Octyabrskyi is planned to be completed this October, and when it opens in 2004 it will remove the need for trains between the iron, copper and bauxite mines at Aktyubinsk and processing facilities in Pavlodar and Karaganda to enter Russia, where tariffs are up to four times higher. The state will provide 7·5bn tenge towards the cost, with KTZ expected to raise the other 800m tenge. It will shorten by 1500 km the route from the north and centre of the country to the Caspian Sea port of Aktau, where a US$52m EBRD loan is being used for infrastructure work on rail connections.
The planned Charskaya - Ust Kamenogorsk line is expected to take up to five years to complete at a cost of US$130m, and will improve access to the isolated branches in northeastern Kazakhstan, whilst the proposed Arkalik - Dzhezkazgan - Kyzil-Orda line will improve north-south links through the centre of the country.
At the break up of the USSR, Uzbekistan's UTY inherited responsibility for three lines on Kazak territory totalling 100 km: the north-south main line from Chingeldi to the border at Saryagadh near Toshkent, the section of the northwest-southeast line from Beinei to the border at Oaziz and the Pakhtaaral - Zhetysay route which loops through southern Kazakhstan to connect end points in Uzbekistan. Transfer of their ownership to KTZ was announced last year.
Developing external transit traffic is also important to KTZ. Opening of the 20 km Druzhba - Alashankou link with China in 1992 and the connection via Uzbekistan and Turkmenistan to Mashhad in Iran in May 1996 created two transcontinental trunk routes, with a combined potential traffic of up to 15 million tonnes/year.
Facilities for gauge-changing to allow rolling stock to work through were opened at Druzhba on the Chinese border in April 1998. Agreements on the development of international transit and freight traffic have been signed with China, promising greater efficiencies and faster container trains. Electrification and double-tracking of the route is expected to reduce transit times, and an annual traffic of up to 10 million tonnes is projected by 2010.
Transport costs by distance, US$ per tonne
Distance km 200 500 1000 1500 2000
Coal 0·92 1·54 2·53 3·53 4·5
Ore concentrates 1·36 2·26 3·71 5·16 6·56
Oil and gas 1·81 3·14 5·23 7·41 9·50
Steel 2·72 4·53 7·41 10·32 13·11
Source: Railways Department, Kazakh Ministry of Transportation
CAPTION: Bulk trains of minerals moving between mines and processing plants account for around 75% of all freight tonne-km handled by KTZ
CAPTION: Freight traffic using the interchange with Chinese Railways at Druzhba is expected to reach 10 million tonnes by 2010; gauge-changing equipment was installed in 1998
CAPTION: Ceremonies were held in June 2001 to inaugurate services on the 184 km Aksu - Konechaya line, which provides a direct link between Pavlodar and Semipalatinsk
CAPTION: Patentes Talgo is currently supplying four cars to lengthen this six-car Talgo 200 trainset, which began operating services between Chimkent, Almaty and Astana last September. It will be used exclusively in southern Kazakhstan from this September, when two further Pendular Night Train sets will enter overnight service between Astana and Almaty. These 22-car sets will provide three class of accommodation, and are customised for the extreme cold of the northern Kazakh winter