SPAIN: Representing an investment of almost €6bn, between 2004 and 2010 national operator RENFE will have added 560 new passenger trains, 100 locomotives and 438 wagons to its rolling stock fleet. This will give Spain the most modern fleet in Europe, according to Unife's Worldwide Rail Market Study.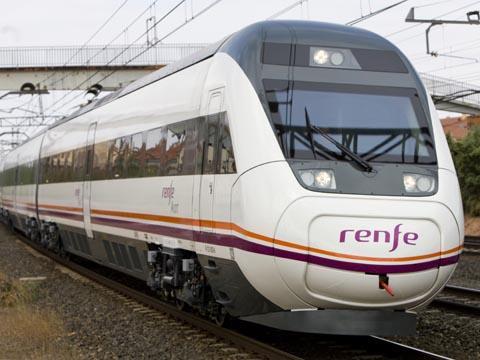 IN 2005 the Spanish government approved the PEIT transport and infrastructure investment plan, which allocates a total of €120bn to rail for for 2005-10 as the backbone of an intermodal transport network for both passengers and freight. Alongside major investment to improve infrastructure, wholescale renewal of RENFE's passenger rolling stock fleet was deemed necessary to meet the government's aims, while the freight locomotive fleet was in need of modernisation.
To meet these objectives, RENFE decided on a rolling stock procurement plan which aimed to strengthen passenger services on the conventional network, with significant increases in the suburban fleet and especially trains for medium-distance services. More high speed rolling stock, including gauge-changing vehicles, would extend the benefits of new infrastructure to the majority of the population. For the freight business, the objective was to increase traction capability while achieving a quantum leap in reliability and productivity, in order to win traffic in a market now open to competition from the private sector.
The outcome would be more versatile and modular train fleet, with enough capacity to meet the different demands of the long and medium-distance passenger sectors, the suburban networks and freight. All new passenger rolling stock would be fully accessible, and RENFE's rolling stock maintenance business Integria would be involved in the assembly and maintenance of new trains.
As a result, RENFE embarked upon a major programme to modernise and expand its rolling stock fleet, which will see 560 passenger trains entering service between 2004 and 2010. Of these, 265 will have been delivered by the end of 2008. The remaining 295, together with 100 locomotives and 438 wagons, are to be delivered in 2009-10.
The 560 new trains comprise 223 suburban EMUs, 122 trainsets for services on the broad-gauge network, and 10 hotel train formations for overnight services (Table I). There are 103 standard-gauge trainsets for long and medium-distance high speed services, and 102 gauge-changing units to spread the benefits of faster journey times throughout the network. Of the new trains, 63·4% are for the 1 668 mm gauge network and 18·4% for high speed lines, while 18·2% are gauge-changing units capable of using both systems.
RENFE's rolling stock plan has seen the development of the new Class 114, 121, 449 and 599 trainsets for the passenger sector, as well as the Class 253 electric freight locomotive and further refinement of the Civia suburban EMU concept. Total investment in the rolling stock modernisation plan for 2004-10 is €5·99bn, to which must be added €700m for refurbishment and €300m for accessibility improvements to existing vehicles.
Civia for suburban networks
In December 2003 RENFE took delivery of the first four EMUs built to the new Civia design, which due to its modular conception can be produced by more than one manufacturer. By 2010 the Civia fleet will total 237 trains, of which 130 are already in service.
Civia is not a specific train, but rather a platform developed by RENFE engineers which can be adapted to suit different technical approaches and construction methods. This flexibility allows the latest technology to be used while retaining a homogenous and compatible train fleet, even if the units are assembled by different builders with different equipment.
Modularity extends to the train formation itself, which can be between two and five cars in length. This enables the EMU to be tailored to the specific capacity requirements of RENFE's 12 suburban networks across Spain and their particular passenger flows.
One coach in each formation is fully accessible, its low floor providing level boarding without ramps or lifts. Civia EMUs also have full-width inter-car gangways without partitions, enabling passengers to move between cars more easily.
Medium-distance high speed
RENFE's medium-distance passenger services divide into two segments, high speed and conventional, and new rolling stock was required for both markets. For the high speed sector this would be a brand new type of train, while existing rolling stock on the conventional network was in need of replacement.
Branded as Avant, medium-distance high speed services are intended to meet the travel requirements of those towns and cities served by intermediate stations on new lines in Spain. In 2004 the first 20 Class 104 units built by a consortium of Alstom and CAF were put into service, offering slightly fewer onboard facilities and a marginally lower maximum speed (250 km/h) than previous high speed trainsets. From 2009, the Avant fleet is due to be strengthened by the new Class 114 and 121 trainsets that are currently undergoing acceptance trials.
Alstom is supplying 13 Class 114 trainsets, developed from the Class 104 and incoporating numerous enhancements including better traction and braking performance as well as improved ride comfort. Train reliability and availability should be improved, with traction equipment designed for lower energy consumption and reduced maintenance costs. The Class 114 is equipped with ETCS, STM-LZB and the ASFA Digital automatic train protection system.
On board, passenger information and entertainment systems have been upgraded, and there is a vending area for refreshments. The Class 114 also features an attractive new front end design, compliant with new crashworthiness standards.
Each Class 114 trainset is 107·9 m long and comprises four motor cars with a total seating capacity of 236, all in tourist class (Table II), plus one wheelchair space. Up to three trainsets can operate in multiple, and maximum speed is 250 km/h.
The Class 121 is being built by a consortium of CAF and Alstom, and is based on the Class 120 design which is also capable of operating on both 1 435 mm and 1 668 mm gauge. However, it has a different interior specifically tailored to the requirements of passengers on medium-distance Avant services using both the conventional and high speed networks.
RENFE has ordered 29 Class 121 trainsets, of which the first six are now undergoing acceptance trials with a view to entering service in 2009. The remainder of the fleet will be gradually phased into service by the start of 2010.
Each unit comprises four motor cars and has a length of 107·4 m. Up to three trainsets can operate in multiple. Each unit has a total of 280 tourist class seats, plus one wheelchair space. A new design of seat has been installed, together with an improved video passenger information system.
Traction equipment is installed for operation at both 25 kV AC on high speed routes and 3 kV DC on the conventional network, the supply voltage changing automatically with the track gauge. ETCS, LZB and ASFA Digital signalling equipment has been installed.
The Class 121 weighs 252 tonnes. Maximum speed is 250 km/h on 1 435 mm gauge and 220 km/h on 1 668 mm.
Replacing the conventional fleet
With the average age of rolling stock approaching 30 years, replacement of RENFE's broad-gauge medium-distance fleet became a necessity. The first steps were taken in 2004 with the introduction of 21 Class 598 diesel multiple-units, and at present 50 Class 599 DMUs and 57 Class 449 EMUs are in production.
Both new classes meet current accessibility requirements, each unit having one low-floor car equipped with an access ramp, a space for a wheelchair and an accessible toilet. Interior fitment is similar in both types, reducing maintenance costs. As well as meeting the latest crashworthiness standards, the Class 449 and 599 have been designed for future conversion from 1 668 mm to 1 435 mm gauge.
Class 449 EMUs have been ordered from CAF in two batches of 33 and 24 units respectively. The articulated five-car units are 98 m in length, and up to three can operate in multiple. Weighing 172 tonnes, the Class 449 has a maximum speed of 160 km/h.
Each unit has 260 seats in tourist class, plus one wheelchair space. Air-conditioning has been installed, as well as audio and video passenger information and entertainment systems and CCTV. The Class 449 is currently completing trials and RENFE expects the first units to enter service during the first quarter of 2009.
CAF is also supplying the 50 Class 599s, the first of which are also expected to enter service early in 2009. Each three-car DMU comprises two driving motor cars and an intermediate low-floor trailer car with an accessible toilet, vending area and a bicycle/pushchair storage space. There are 185 tourist class seats plus one wheelchair space per unit.
Each Class 599 set weighs 159 tonnes when empty, and is 75·9 m in length. Maximum speed is 160 km/h and up to three units can operate in multiple.
High speed expansion
At the start of 2000 RENFE placed orders for 16 Class 102 trainsets from a Talgo/Bombardier consortium, and 16 Class 103 trainsets from Siemens, for operation on the Madrid - Barcelona route at speeds over 300 km/h. With the Madrid - Valladolid and Córdoba - Málaga routes approaching completion, the decision was taken to purchase 30 Class 112 trainsets, a development of the Class 102 with increased seating capacity, as well as an additional 10 Class 103s (Table III).
The first Class 112s are expected to enter service shortly. At the same time, RENFE's original high speed train fleet, the Class 100 which entered service between Madrid and Sevilla in 1992, is undergoing comprehensive refurbishment.
RENFE has also acquired gauge-convertible rolling capable of operating at up to 250 km/h, spreading the benefits of the faster journey times made possible by high speed infrastructure across the whole country. Branded as Alvia, 12 Class 120 trainsets supplied by CAF and Alstom were put into service from 2006. Also branded as Alvia are 45 Class 130 units ordered from Talgo/Bombardier and the 16 Class 120/5 trainsets being supplied by CAF/Alstom with enhancements for improved reliability.
For overnight services, 10 gauge-changing hotel train formations have been ordered from Talgo, each comprising 20 cars. With a maximum speed of 220 km/h, each loco-hauled formation can accommodate a total of 234 passengers. In 10 cars there 49 Gran Clase sleeping compartments, offering a total of 98 berths. Each is equipped with a video entertainment system and a private shower and toilet. There are eight cars with a total of 136 reclining seats, a bar car and a restaurant car.
Both the bar and restaurant areas are fully accessible to passengers in wheelchairs, and one sleeping compartment per train is equipped with an accessible toilet. A standard, accessible toilet module will feature throughout the last six trains off the production line, as well as two specially adapted reclining seats.
In developing the interior configuration of its new overnight trains, RENFE has drawn heavily on market research to meet more closely passenger needs. Research demonstrated a preference for private Gran Clase compartments, deemed to be the only type of accomodation that matched hotel standards, and for this reason the new trains have a larger number of these compartments than previous builds.
The first new hotel train formation was expected to enter service around the end of 2008, deployed on services running over 900 km from end to end.
New equipment underpins freight strategy
In November 2006 Bombardier received an order to supply 100 Class 253 electric locomotives for RENFE's freight business, the first 15 of which were due to enter service by the end of 2008. At the same time, 91 Class 333/3 diesel locomotives are being rebuilt under a programme scheduled for completion in 2009.
RENFE is hoping to secure a commercial advantage from the Class 253, more powerful and hopefully cheaper to operate than its existing freight traction, now advancing in years and initially designed for both passenger and freight duties.
Intended solely to haul freight, the Class 253 is rated at 5 600 kW and features four three-phase asynchronous traction motors, GTO converters and IGBT control. Maximum speed is 140 km/h and only 3 kV DC traction equipment is installed, although the underframe is designed to accommodate 1 435 mm gauge bogies.
The wagon fleet is also being modernised, with a total of 438 new vehicles to be acquired. Trainload commodities are a key focus, such as coal, cement, fuel and steel products. New hoppers are being ordered to carry ash and clinker, as well as flat wagons and tanks to carry new products such as biofuels. Wagons have also been ordered to carry new cars on domestic and international flows.