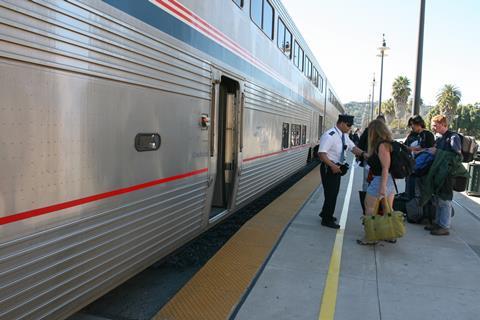 AMBITIOUS PROPOSALS for expansion of inter-city passenger services in the USA were unveiled in Washington DC on December 6. The 'Vision for the Future' report calls for investment of $357·2bn between now and 2050.
The report was compiled by a working party formed of state transport authorities and regional rail operators, led by Wisconsin's Secretary of Transportation Frank Busalacchi. It is intended to feed into the work of the advisory National Surface Transportation Policy & Revenue Study Commission headed by US Transportation Secretary Mary Peters.
Noting that 'the population base is shifting', working party member Eugene Skoropowski (who heads California's Capitol Corridor Joint Powers Authority) said 'the passenger rail system needs to respond to new and growing markets. This plan is a beginning and not an end to the process'.
An average annual spend of $8·1bn would help create routes of up to 800 km, which would provide a viable alternative to congested roads and air routes. This would dwarf the current rail budget but still be only a fraction of federal spending on other modes. In the 2007 financial year Amtrak received $1·3bn compared to $40bn for roads and $14bn for air transport.
According to Skoropowski, 'we strived for common ground with the freight rail industry that also addressed improving passenger mobility, and I believe we have found it'. However, the Association of American Railroads condemned the proposal, asserting that 'piggybacking on privately owned and operated freight railroad assets will give America a third-rate passenger rail system.' AAR would prefer to develop separate rights-of-way for passengers and freight, citing recent growth in the volume of freight being handled by its members.
It is clear that there is a huge opportunity to expand inter-city passenger services in the USA - strong growth on regional corridor services in California and Illinois helped Amtrak to achieve a new ridership record for the year to September 30. But the total of 25·8 million passenger journeys remains pitifully small by international standards. Peters has committed to reviewing the report, but given the funding demands for social and military spending and the US government's huge deficit, the prospects for any major investment in the near future still seem fairly remote.