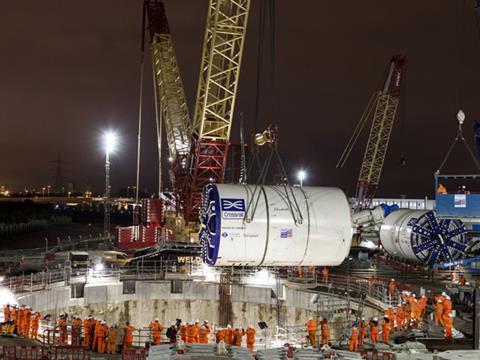 UK: A 550 tonne tunnel boring machine was lowered into a 40 m deep shaft in east London on October 25, ahead of the start of tunnelling for the 8·3 km Limmo Peninsula - Farringdon section of the Crossrail project.
Weldex International supplied one of the largest cranes in Europe for the delicate operation, which had to be undertaken at a time with no rain and only a light wind.
The TBM has been named 'Elizabeth', in honour of the current monarch. A second TBM, 'Victoria' will follow it into the shaft to bore the parallel tunnel. When their gantries are full assembled, the two TBMs will be 148 m long. They will be used by the Dragados Sisk joint venture to tunnel under the River Lea towards Canary Wharf, where they will undergo maintenance in the station box before continuing to Whitechapel, Liverpool Street and Farringdon.
A total of eight Herrenknecht TBMs will be used to construct 21 km of twin bore tunnel under London as part of the Crossrail project.
Herrenknecht is supplying a 11·46 m diameter earth pressure balance TBM which the Consórcio Linha 4 Sul consortium of Construtora Norberto Odebrecht, Construtora Queiroz Galvao and Carioca Christiani Nielsen Engenharia will use to build a 4·6 km long section of Rio de Janeiro metro Line 4.