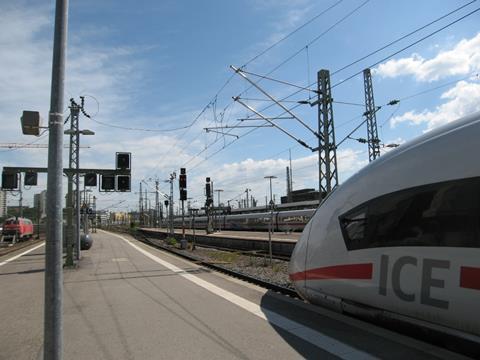 GERMANY: The Land of Baden-Württemberg agreed in principle on November 27 to support proposals for the roll-out of the European Train Control System and digital interlockings in the Stuttgart region by 2030.
The Baden-Württemberg cabinet has authorised the Land transport ministry to enter into financing negotiations with the federal government, DB Netz and local transport association Verband Region Stuttgart as other partners in the project. 'The delays in construction of the Stuttgart 21 project provide a short window of opportunity to fully equip the rail hub in Stuttgart with ETCS and digital interlockings as the first large railway junction in Germany', said Transport Minister Winfried Hermann.
The area-wide conversion had been identified as one of three pilot schemes for the implementation of new train control technologies across the national rail network, following a market study commissioned from McKinsey by the federal Ministry of Transport & Digital Infrastructure as part of the Digital Schiene Deutschland strategy.
The three pilots are expected to be developed during 2020-25, with the national government anticipating that 80% of the network could be equipped by 2030. The three schemes would look at different types of route, in order to identify any potential challenges to implementation. They would cover:
the Scandinavian – Mediterranean TEN-T corridor;
selected trunk routes, including the Köln – Frankfurt high speed line, Dortmund – Bielefeld – Hannover and Magdeburg – Knappenrode;
the Stuttgart metropolitan network.
According to Deutsche Bahn, the three schemes would require a total investment of around €1·7bn by 2025. Presenting the results of the study at InnoTrans 2018, DB Board Member for Infrastructure Roland Pofalla had emphasised that 'digital technology is the central key for improving the competitiveness and customer-friendliness of the rail sector', increasing capacity, improving quality and raising efficiency.
Read more about Digital Schiene Deutschland and Stuttgart 21 in the September 2018 issue of Railway Gazette International magazine, available to subscribers in our digital archive.