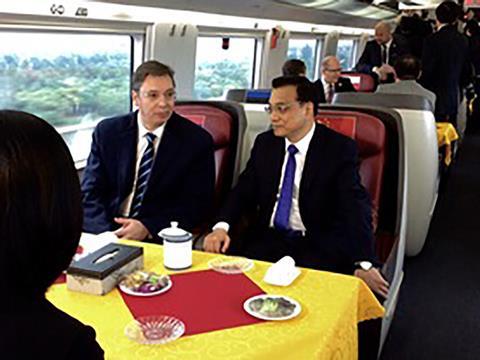 EUROPE: Two agreements for the planned upgrade of the Beograd – Budapest route to provide a double-track mixed traffic line suitable for 200 km/h operation were signed at the Fourth Meeting of Heads of Government of China and Central & Eastern Europe Countries in Suzhou on November 24. This builds on a memorandum of understanding signed by Serbia, Hungary and China in November 2014.
Serbian Prime Minister Aleksandar Vucic said his country was leading the way in the implementation of Chinese-backed infrastructure projects in the region. A framework agreement was signed in Suzhou by Serbia's Ministry of Mining & Energy, China Communications Construction Co and China Railway International covering the planned upgrade of the 184 km Serbian section of the route, which would be funded from a China Exim Bank loan with a 2% interest rate.
Serbian Railways would be responsible for preparing documentation and acquiring land, while the Chinese companies would procure materials and undertake the construction works. The agreement requires 46% of the goods and services for the project to be sourced in Serbia. Construction is expected to get underway during 2016 and would take around two years.
Hungary's Ministry of Foreign Affairs & Trade and China's National Development & Reform Commission signed the second agreement in Suzhou, covering co-operation in the development, financing and construction of the 166 km Hungarian section of the route.
Upgrading is expected to shorten the journey time between the capital cities from 8 h to 3 h.
A feature article on railway investment in the counties of former Yugoslavia appeared in the September 2015 issue of Railway Gazette International magazine, which subscribers can access in the digital archive.