NORWAY: State-owned rail engineering contractor Baneservice has placed the first Scandinavian order for a Plasser & Theurer Unimat 09-2X-4x4/4S Dynamic E³ tamping machine equipped for electric and diesel operation.
The tamper will use the 15 kV 16⅔ Hz overhead electrification to provide power for both movement and tamping where possible, while the diesel engine will be used during operation on non-electrified tracks.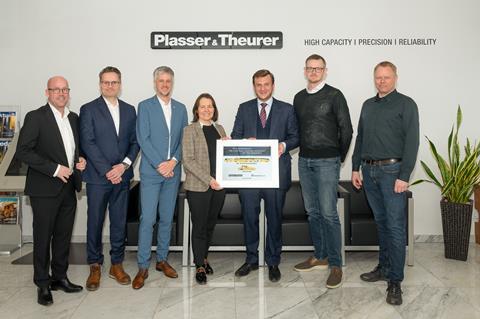 'We are constantly working to find good solutions that will help make the construction and maintenance of Norwegian railways more sustainable', said Baneservice CEO Kjersti Kanne when the contract was signed on March 15. 'With this technology, we are taking an important step towards more climate-friendly and efficient production.'
The integrated Dynamic Track Stabiliser will create a homogeneous ballast bed to increase resistance against lateral track displacement, while a sweeping unit will ensure a clean finish to plain line and turnouts.
The tamper will be fitted with ETCS, and the cab will include a heated crew room and a toilet, along with an ergonomic workplace.
Baneservice is Plasser & Theurer's largest customer in Norway. In addition to the tamper, it has also ordered a USP 2010 SWS ballast regulator with an integrated 10 m³ hopper and a sweeping unit able to collect and store existing ballast for reuse.