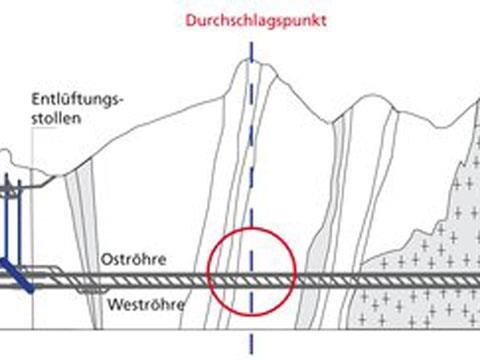 SWITZERLAND: Tunnel boring machine 'Sissi' broke through the final 1·8 m of rock for the first main bore of the 57 km Gotthard base tunnel at around 14.15 on October 15.
The breakthrough point in the east tunnel was 30 km from the north portal and 27 km from the south portal, and deviation from the alignment was 80 mm horizontally and 10 mm vertically.
As well as being televised live, the breakthrough was watched by 200 guests inside the tunnel including Swiss Transport Minister Moritz Leuenberger, who retires next month having seen the project reach this milestone.
The SFr9·83bn Gotthard base tunnel is the central element of the SFr12·25bn AlpTransit project to provide a flatter and faster north-south corridor through Switzerland, reaching a maximum altitude of 550 m compared to 1 150 m on the current route. The tunnel comprises two single-track bores 40 m apart and as far as 2 500 m below the surface, with connecting tunnels every 325 m.
The AlpTransit project is scheduled to be completed in December 2017, with 250 km/h running cutting Zürich - Milano passenger journey times from 3 h 40 min to 2 h 40 min. Around 150 freight trains use the Gotthard route every day, and the project will increase capacity to more than 200 trains/day. Top speeds for freight of 160 km/h and an increase in maximum loads from 2 000 to 4 000 tonnes will result in overall freight capacity almost doubling to 40 million tonnes/yea
A report on the breakthrough will appear in the November 2010 issue of Railway Gazette International