ROMANIA: Construction of the rail link to serve București's Henri Coandă International Airport is making good progress, according to State Secretary for Transport Ionel Irinel Scrioșteanu.
Work has started on erection of the roof of the new station adjacent to the airport's Terminal 1, he reported on April 15, despite the government's decision to extend the country's coronavirus emergency period for a further 30 days until at least May 16.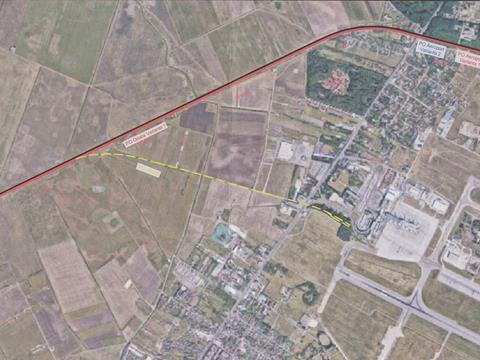 According to Scrioșteanu, the rail link will contribute to reducing the amount of car traffic in București and the northern part of the Ilfov region.
The 2·95 km double-track branch off CFR's existing București – Urziceni main line is being built by a consortium of Arcada, ISPCF and DB Engineering & Consulting under a 398m lei design and build contract awarded in June 2019.
Including a 1·5 km viaduct over National Road DN1 and a 150 m long platform at the airport station, the line was expected to take 14 months to complete.
While construction of the station is progressing well, work on the central section of the branch was suspended in December 2019 following a ruling by the Court of Appeal over complaints from a nearby hotel regarding intrusive construction and ground drilling works.
The ministry announced at the end of February that it was looking to sign a protocol with the affected parties that would enable construction of this section to resume.