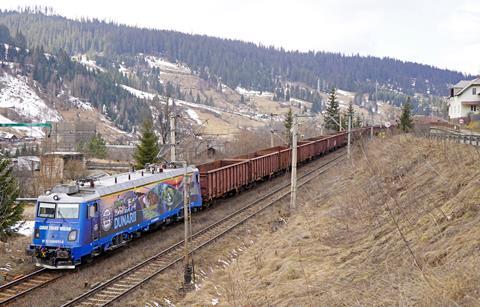 ROMANIA: Infrastructure manager CFR SA has commissioned technical and feasibility studies to support a comprehensive modernisation of the 409 route-km trans-Carpathian railway across the northeast of the country.
Opened in the early years of the 20th century, the Alba Iulia – Câmpia Turzii – Dej – Suceava – Pașcani – Iași route is electrified throughout, and the upgrading is intended to deliver efficient connections into the TEN-T network in Central Europe, linking the northern arm of the Rhine-Danube Corridor with Pan-European Corridor XI Giurgiu – Iași – Ungheni.
The four studies covering sections of lines 300, 401 and 502 between Coșlariu, Apahida, Ilva Mică and Suceava are intended to inform a call for tenders for delivery of the main works. CFR's aim is to facilitate 160 km/h operation of passenger trains and allow freight trains to run at 120 km/h, except on the more mountainous sections where speeds will be limited.
The work is 85% funded from the European Union's Connecting Europe Facility through the Cohesion Fund, with the remaining 15% coming from the state budget.
A consortium of EGIS România, Egis Rail and Italrom Inginerie Internațională has been selected to prepare plans for the 119 km Apahida – Ilva Mică section of Line 401, at a cost of 29·6m lei.
TPF Inginerie, ISPCF and Baicons Impex, have been awarded a 49·3 m lei contract covering the 106 km from Ilva Mică – Pojorâta of Line 502. Baicons Impex and ISPCF were also been awarded a 35·7m lei contract covering the 85 km Pojorâta – Suceava section.
The same grouping of TPF Inginerie, ISPCF and Baicons Impex has been awarded a 41·8m lei contract for studies covering the 99 km of Line 300 between Cluj-Napoca, Apahida and Coșlariu, at the western end of the route.