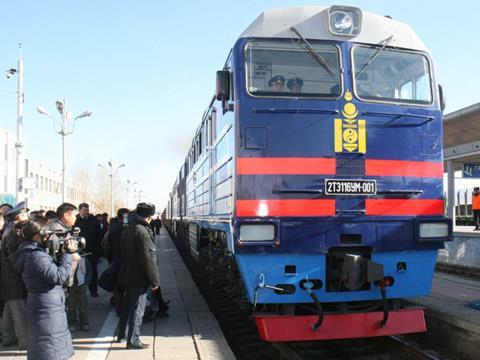 MONGOLIA: Plans to construct new heavy haul railways are progressing, with the national railway authority awarding South Korean construction firm Samsung C&T a US$483m contract to build a 217 km line linking a coal mine at Tavan Tolgoi, 540 km south of Ulaanbaatar, with the Chinese border. Work is expected to take 30 months.
On May 6 an agreement was reached for the government to pay Mongolian Mining Corp 84bn tögrög to reimburse expenses it incurred in the planning of a similar 225 km railway in the South Gobi between the Ukhaa Khudag coking coal mine and Gashuun Sukhait on the Chinese border. It was to have been built under a concession agreement signed on May 31 2012, but this has now been cancelled as part of a government strategy to consolidate various rail schemes so they can be implemented as a unified project under its oversight.
The compensation could be converted into equity in the New Railway special purpose vehicle to be established by the government to implement the national project. MM is to be granted 50% of the capacity of the planned railway, while its existing contracts and obligations will be reassigned to national railway shareholding company MTZ.
The Northern Railways subsidiary of Aspire Mining has appointed SMEC to undertake an A$9·8m feasibility study and provide tender documentation for a planned 595 km line running west from the existing network at Erdenet to Mörön and the Ovoot Coking Coal Project. As well as coal traffic, the 1520 mm gauge line would be available for other freight traffic as well as passenger services.