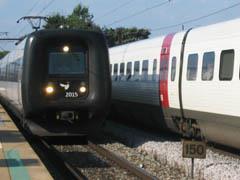 DENMARK: Electrification of the main line from Lunderskov west to Esbjerg heads a four-point programme of rail investment approved by the government and opposition parties on February 7.
The 56 km electrification project is to be completed in 2015 at a cost of DKr1·19bn. This will enable DSB to procure electric trains rather than diesel stock for København - Esbjerg services, reducing operating costs and making 10 IC3 DMUs available for use elsewhere.
DSB's Deputy Director of Traffic & Planning, Ove Dahl Kristensen, said approval was an 'important and welcome' decision for the operator, passengers, the environment and the wider economy. DSB is experiencing 6% passenger growth, and there is a need for more capacity.
Further electrification projects are planned, with DKr5·1m allocated to studies into wiring the 45 km Køge Nord - Næstved, 80 km Roskilde - Kalundborg, 109 km Fredericia - Aarhus and 140 km Aarhus - Aalborg routes.
The government has also approved doubling of the remaining 20 km single track Vamdrup - Vojens section of the main line to Germany by 2015. This was priced at DKr0·7bn in 2009, however a further DKr55m has now been allocated to enable Banedanmark to reduce disruption to freight during the two-year construction period.
Funding was also approved for two new stations serving hospitals; DKr46·5m has been allocated for a DKr115m project at Hillerød, and DKr16·6m for Gødstrup.
Finally, approval was given for the Cityringen metro project in København to make passive provision for a two-station branch to serve the Nordhavn development area. The Ministry of Transport says undertaking DKr96m of enabling works now would save DKr300m if the branch were to go ahead in the future.