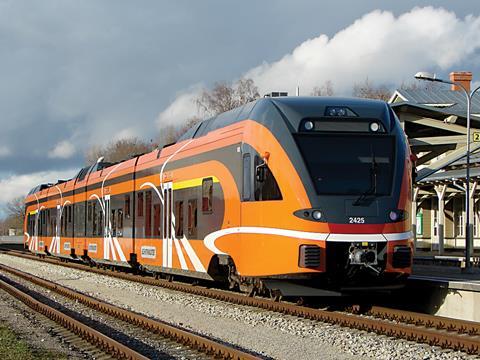 ESTONIA: The Ministry of Economic Affairs & Communications and the Ministry of the Environment are preparing a railway electrification strategy after receiving cabinet backing for the development of proposals.
The government envisages that electrification works could be undertaken in 2022-28, supporting the aim of reducing greenhouse gas emissions by 70% from the 1990 figure by 2030.
Minister of the Environment Rene Kokk put forward various options to reduce emissions from the transport, small-scale energy and agricultural sectors in June. It was felt that that transport offered the best opportunity for a reduction in CO2 emissions, and railway electrification would be the most efficient way to achieve this.
Kokk said significant investment in recent years had made rail travel more comfortable and accessible, but the percentage of the national network which is electrified is one of the lowest in the EU.
'Electrification of the rail network would help to reduce both its environmental impact and its noise, while increasing travel speed', Kokk explained, adding that it would reduce fuel costs by €5m/year.
Passenger operator Elron carried almost 4·1 million people in the first six months of this year, a 5% increase on the same period last year and a 50% increase since new trains were introduced five years ago. Demand-based pricing was introduced on August 1, in an effort to encourage travel at less busy times.
To handle the growth in ridership the government has approved a tender for the supply of two more EMUs, as well as four hybrid units for use on express services.