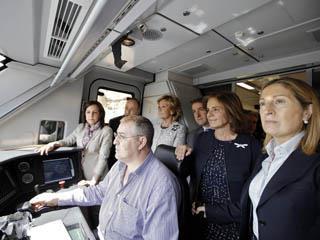 SPAIN: The start of trials of ETCS Level 2 on the cross-city tunnel between Atocha, Sol and Chamartín in Madrid was marked on March 26 when Development Minister Ana Pastor travelled by train from Tres Cantos to Sol. According to the ministry, this is the first application of ETCS Level 2 on a suburban network in Europe.
Level 1 was brought into use on route C4 from Parla to Colmenar Viejo via Sol on March 1. Replacing balises with GSM-R for track-train data transmission, Level 2 offers shorter headways and further capacity benefits.
Pastor was accompanied by RENFE President Julio Gómez-Pomar Rodríguez, as well as Esperanza Aguirre, President of the Madrid regional government, and Mayor of Madrid Ana Botella.