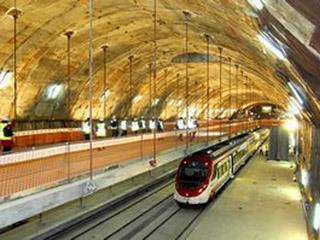 SPAIN: The Ministry of Development announced on March 1 that ETCS Level 1 signalling had been brought into use on RENFE suburban route C4 in Madrid, running from Parla in the south via Atocha, Sol and Chamartín to Colmenar Viejo north of the capital. According to the ministry, this is the first application of ETCS on a suburban network in Europe.
Work to equip 190 km of track, including the branch to Alcobendas-San Sebastián de los Reyes, has been undertaken by the ministry at a cost of over €30m. RENFE has spent €23m to install onboard equipment on 112 Civia EMUs.
The number of trains operating under ETCS on route C4 is to be increased gradually as staff training is completed. The adoption of Level 2 is also planned for the Madrid suburban network with the aim of increasing capacity.