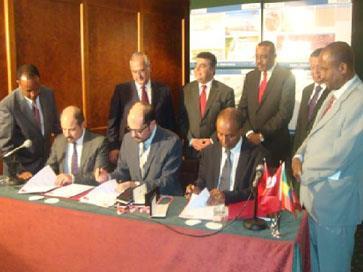 ETHIOPIA: State railway development agency Ethiopian Railways Corp has signed contracts for the construction of a new railway network in the north of the country.
Planned to be completed within three years, the 1 435 mm gauge lines are intended to support regional development by providing Ethiopia with a second outlet to the sea through the port of Tadjurah in Djibouti.
This will complement the moribund line from Addis Abeba to Djibouti, which is currently being replaced on a new alignment.
On June 26 ERC signed a US$1·7bn turnkey contract for Turkish firm Yap? Merkezi to build a new line running 389 km north from Awash to Weldiya/Hara Gebeya.
Four days earlier, China Communications Construction Co had signed a US$1·5bn contract to build a 260 km line running south from Mek'ele to Weldiya/Hara Gebeya.
From the junction at Weldiya/Hara Gebeya a new line will be built eastwards via Semera, Dicheto and Elidar Tadjurah. Traffic is expected to include potash, and passenger services are planned.
ERC has identified eight corridors totalling more than 2 300 km for railway development under the government's Growth & Transformation Plan which runs to 2015.