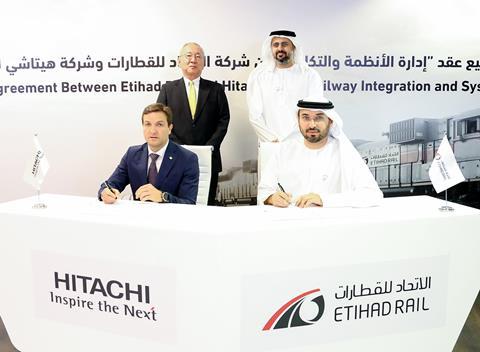 UAE: Project promoter Etihad Rail has awarded Hitachi Rail STS the 1·6bn dirham railway systems & integration contract for Stage 2 of the national network
Hitachi Rail STS is to design, supply, install, test and maintain the railway systems in co-ordination with other Stage 2 contractors.
The contract includes the provision of ETCS Level 2, which Etihad Rail said would allow trains to operate on future lines to other GCC countries.
The 800 km long 11 kV power system which Hitachi Rail STS is to supply would be the longest distribution network in the country, Etihad Rail said.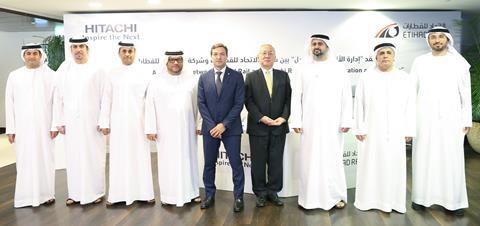 Preventive maintenance systems are to be deployed to identify potential problems before they occur, enabling technicians to be despatched to undertake repairs. Cameras and temperature sensors will detect any movement around the railway.
The main control centre will be located at Faya, with another in Mirfa to provide support and a back-up. These centres will be able to track the trains, controlling their speeds and stopping them if necessary. A crisis management unit will be able to communicate with police and civil defence services across the UAE.
'We are proud and honoured to be entrusted by Etihad Rail for this cutting-edge railway project and to contribute to the development of a fully diversified and sustainable economy', said Christian Andi, President of Hitachi Rail STS's Europe & Middle East & Africa business unit when the contract was signed on October 9.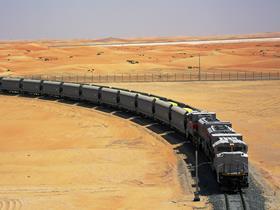 The 264 km Stage 1 was completed in 2015, and is being used to carry sulphur from the Shah and Habshan gas fields in the Al Dhafra region of Abu Dhabi to the Gulf port of Ruwais.
Stage 2 is planned to run 605 km across the UAE from Ghuweifat on the western border with Saudi Arabia to Fujairah on the east coast, via Mussafah, Khalifa Port and Jebel Ali Port. It is expected to increase the volume of freight carried from 7 million tonnes/year to more than 50 million.
A proposed 250 route-km Stage 3 would serve the northern emirates, Dubai Central, Port Saqr and Khor Fakkan.