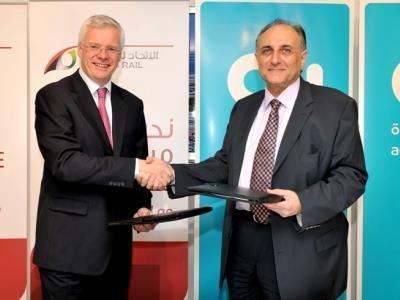 UAE: National rail network developer Etihad Rail announced on June 19 that it had signed a strategic Memorandum of Understanding for collaboration with Dubai-based communications specialist du.
The MoU was signed by Etihad Rail CEO Richard Bowker and du CEO Osman Sultan in a ceremony at du headquarters attended by senior executives from both organisations.
Under the agreement, du will provide consultancy and technical support for Etihad Rail's integrated telecommunications programme, whilst du will be able to make use of the new railway infrastructure to further expand its growing network and customer base, particularly in the western and northern parts of the UAE.
Launched in February 2007, du provides mobile and fixed line telecommunication services, internet and TV in and around Dubai, and now has more than 4·6 million customers. The company is 39·5% owned by the UAE federal government, 19·75% by Mubadala Development Co, 19·5% by Emirates Communications & Technology Co and the remainder by individual shareholders. It is listed on the Dubai Financial Market.
Bowker said du had demonstrated 'exceptional competence in delivering high speed, fully integrated telecommunications solutions effectively and efficiently. Etihad Rail aims to provide its customers and equip its network with a telecommunications infrastructure with such qualities'.
Sultan agreed that 'we see a lot of synergy in this collaboration. Etihad Rail gets to benefit by leveraging our telecom expertise and utilising our extensive portfolio of fixed and mobile services, whilst we would benefit from getting access to their infrastructure. Our intention is to grow this partnership to ensure common good – for our customers as well as theirs.'
Etihad Rail has already signed a number of co-operation agreements ahead of the start of construction of the first phase of its 1 200 km network, including a partnership with the Abu Dhabi National Oil Company covering the shipment of granulated sulphur and other traffic for ADNOC on the initial section between Ruwais, Habshan and Shah.