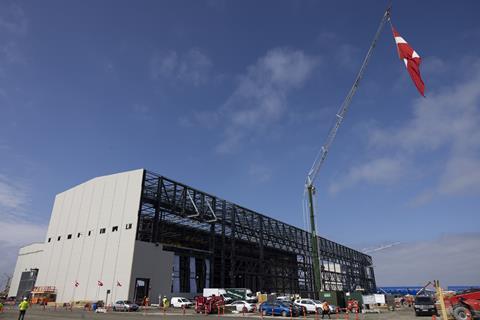 DENMARK: The first of the buildings which will be used to produce the 217 m long, 73 500 tonne concrete elements for the Fehmarn Belt immersed rail and road tunnel between Denmark and Germany has been topped out by project promoter Femern A/S and main contractor Fehmarn Link Contractors JV.
The three halls in Rødbyhavn are being built by Give Steel.
'Today is a special day as we celebrate the many hundreds of workers who have worked hard to build the world's largest tunnel element factory', said FLC Chief Executive Sébastien Bliaut on June 8. 'We still have many years of work ahead, but today we pause for a moment to admire the factory, and the great effort it symbolises.'
The first of the six production lines is expected to be ready by the end of the year, and immersion of the tunnel elements will begin next year.