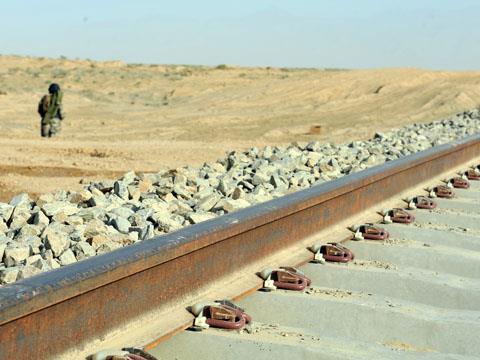 AFGHANISTAN: Freight services reportedly began running on Afghanistan's first major railway on August 20-21. This followed the signing on August 4 of a three-year agreement for Uzbek national railway UTY to operate the 75 km 1 520 mm gauge line, which it built at a cost of US$165m using Asian Development Bank funding.
The line starts at the Hayratan freight terminal on the Afghan side of the Uzbek border, which handles around half of Afghanistan's imports and is served by a Soviet-built rail spur dating from the early 1980s. It runs though an empty landscape to a freight terminal near Mazar-i-Sharif airport.
UTY has been appointed to operate the line as its only international connection is through Uzbekistan, and the lack of an indigenous rail industry in Afghanistan means it will take time to train local operations and maintenance staff.
Afghanistan's only other main line railway is a short spur across the border from Turkmenistan. However an Iranian-funded 1 435 mm gauge line is under construction from Iran to Herat, and studies are underway for the creation of a northern rail corridor from Herat to Mazar-i-Sharif and Tajikistan. This would provide the Central Asian republics with a route to the sea; studies are underway for a link from Atamyrat in Turkmenistan to Andkhvoy which could link with this corridor.
A north-south line to serve the Aynak copper mining development is also being studied by Chinese mining firm MCC.