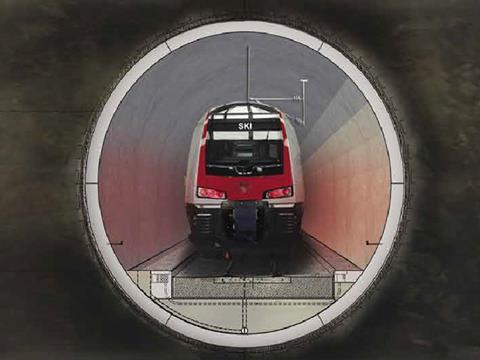 NORWAY: Infrastructure manager Jernbanebverket has prequalified 12 consortia of European and Asian companies for the two main tunnelling contracts for the new Follo Line between Oslo and Ski.
Designed for 250 km/h, the Follo Line is Norway's largest transport project at present. The double-track route will run for 22 km between Oslo and Ski, duplicating the existing Østfold line. Forming part of the InterCity network expansion programme, the line could one day form part of a high speed line to the rest of Europe via Göteborg.
The majority of the route will run in a 20 km twin-bore tunnel, which will be the first in Norway to be excavated using tunnel boring machines. The project also includes the construction of a new public transport interchange at Ski, extensive work at Oslo Sentral station and the realignment of the Østfold line on the approaches to Oslo S, requiring a total of 64 km of new track
Jernbaneverket is tendering four turnkey contracts for the main elements of the project. Two cover the tunnelling, which has been divided into one contract for excavating the main bores using four TBMs and one for the conventional drill & blast sections. A third contract covers the approaches to Oslo S, while the fourth will bundle the above-ground section from Langhus to Ski and the new station at Ski.
Project Director Erik Smith said 'the response from both national and international companies for the two contracts has been most satisfactory. The number of applications, as well as the quality, confirms that our selected contract strategy for the project is in line with both available capacity and competence in the market.'
Following the prequalification stage, six joint ventures will be invited to tender for the TBM work, while three joint ventures and three individual companies will bid for the Drill & Blast contract.
TBM contract bidders
Acciona Infraestructuras (Spain) and Ghella (Italy);
Gülermak (Turkey), Samsung (South Korea) and Pizzarotti (Italy);
Implenia Norge (Norway), Hochtief Solution (Germany) and Dragados (Spain);
NCC Construction (Norway), Vinci Construction Grands Projects (France) and Wayss & Freytag Ingenieurbau (Germany);
Obrascon Hauarte Lain (Spain) and SK Engineering & Construction (South Korea);
Skanska Norge (Norway) and Strabag (Austria).
Drill & Blast contract bidders
Implenia Norge (Norway), Hochtief Solution (Germany) and Dragados (Spain);
Skanska Norge (Norway) and Strabag (Austria);
Salini (Italy), Impregilo (Italy) and CSC Impresa Costruzioni (Switzerland);
AF Gruppen Norge (Norway);
Obrascon Huarte Lain (Spain);
Società Italiana per Condotte d'Acqua (Italy).