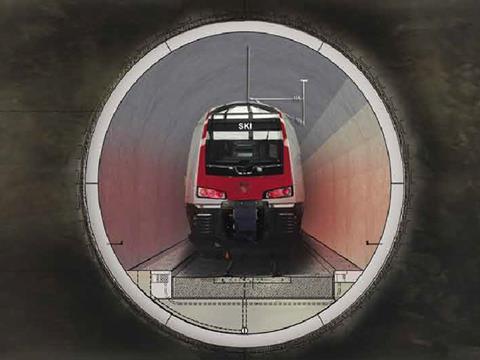 NORWAY: Infrastructure manager Jernbaneverket has awarded a framework contract for technical consultancy for the Follobanen project to a Swiss/Norwegian consortium of Amberg Engineering, Multiconsult and Dr Ing A Aas-Jacobsen AS.
The three-year agreement with an option for a one-year extension will enable Jernbaneverket to access specialist technical skills and expand its project management capacity in periods of peak project activity.
The 19·5 km Follobanen will provide a 250 km/h double-track alignment between Oslo and Ski, doubling capacity and separating regional and long distance services from local services on the route. A key project in the Norwegian Inter-City Triangle, the NKr23·5bn Follobanen will see the construction of 19·5 km dual bore tunnel as well as new or redesigned alignments into the stations in Oslo and Ski.