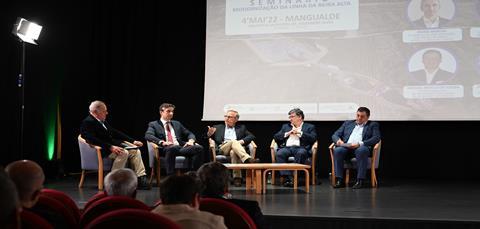 PORTUGAL: Infraestruturas de Portugal and national operator CP have updated local residents, policymakers and other stakeholders on progress with the €550m modernisation of the Beira Alta railway between Pampilhosa and Guarda, which is currently underway.
The 202 km route provides the principal connection between the Porto – Lisboa main line and the Spanish border crossing at Vilar Formosa. Trains were suspended over the 160 km between Pampilhosa and Guarda on April 19 for an initial nine month blockade.
Hosting a seminar in Mangualde, IP and CP sought to clarify the aims and outcomes of the route modernisation. IP's priority is to increase the capacity for freight traffic, allowing the operation of 750 m trains rather than the previous maximum of 400 m. Once the work has been completed, the route should be able to handle up to 25 trains per day in each direction. IP hopes the route could be carrying up to 5 700 freight trains per annum by 2045.
The track, signalling and electrification equipment is also being renewed and 15 stations will be refurbished. A series of long-standing speed limits along the mostly single-track route will also be removed.
A significant element of the work is the construction of the 3·2 km Concordância da Mealhada, north of Pampilhosa. This chord will provide an east-to-north link between the Beira Alta route and the north-south Lisboa – Porto main line. It is intended to facilitate the operation of intermodal trains to and from the port of Leixões near Porto, but would also be used by trains serving a planned dry port at Guarda.
During the blockade, freight traffic is being rerouted via the Beira Baixa line, which was reopened between Guarda and Covilhã in May 2021 after being mothballed for 12 years. Passenger services are being replaced by buses.
The Beira Alta line is scheduled to reopen on weekdays from January 2023, but weekend services may not return until February 2024. This represents a significant delay from the plans first published in 2016 under the government's Ferrovia 2020 package, which called for completion in the first quarter of 2020.
Principal contractors for the scheme include Comsa/Fergrupo for construction of the Mealhada chord civil works, and Sacyr Neopul/Sacyr Somague, Mota Engil and a consortium of Conduril, Teixeira Duarte and Somafel for the route modernisation elements.