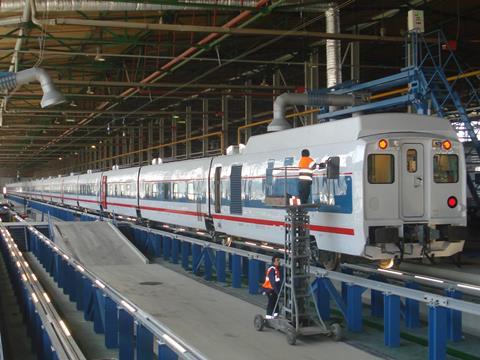 BELARUS: Belarus Railways has installed a Talgo automatic gauge-changer at Brest station, close the Polish border, and expects to obtain certification for it to be used by Talgo passenger trainsets during the first quarter of 2015
Installation required remodelling tracks and signalling and the installation of electrification equipment. The project is being implemented jointly by Belarusian Railways and Russian Railways, which has ordered three gauge-changing Talgo trainsets for use on Moscow – Minsk – Warszawa – Berlin services.
The wheels will be adjusted from 1 520 to 1 435 mm gauge as the trainsets move slowly through the changer, eliminating the time-consuming need to jack up coaches and swap bogies. The Talgo trains will allocated 30 min for gauge changing and border formalities, compared to 2 h at present.