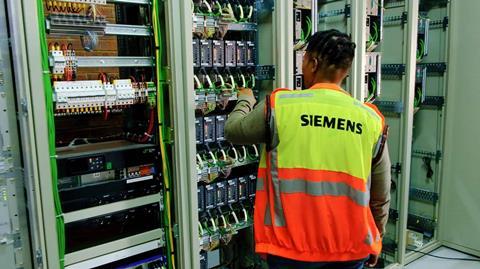 SOUTH AFRICA: Passenger Rail Agency of South Africa has completed the resignalling of its suburban rail network in Gauteng province, serving Johannesburg and Pretoria.
Underway since 2011, the two-stage project is the largest signalling project carried out on the network, according to main contractor Siemens Mobility. The programme also included a pilot installation of ETCS at seven stations.
Obsolete relay-based signalling, some of which dated from before the 1940s, has been replaced with a system based on SIL-4 compliant electronic interlockings, using SICAS S7 technology. The programme required the installation of more than 9 900 signalling elements, and more than 550 km of trenching to accommodate the lineside cabling.
The new signalling is fully bidirectional, and designed to allow trains to operate at a minimum headway of 2½ min. Remote monitoring and fault-finding is incorporated, along with functionality to optimise timetable planning.
The Gauteng 1 contract awarded in April 2011 covered the development of a new operational control room, the so-called Gauteng Nerve Centre in Kaalfontein, and the resignalling of 17 stations. The Gauteng 2 package awarded in March 2014 covered a further 72 stations, along with a control centre in Germiston. Extensive track and overhead line renewals were also carried out.
The two projects have seen the consolidation of train control from 33 separate signal cabins into the Gauteng Nerve Centre and eight satellite control centres.
Prasa personnel have been trained to support the migration and use the new technology effectively, including the transition of train control from a desk-based graphical system to an IT-based Satcos workstation.
'The key highlight for me is really the long-anticipated consolidation of the stations we have into one operation, meaning the centralised train control', said PRASA's Acting Signal & Telecommunications Manager Athanacious Makgamatha. 'It is remarkable that we can embrace new technology like this, especially considering that we come from an era of manual authorisation and obsolete technology that we had to battle to repair and maintain. The system offers enhanced safety and operational efficiency to our commuters. We've already seen this on the Mabopane line, achieving a 95% availability and reliability rate. Additionally, the system's security is improved through the reduction of copper, among other things.'
To ensure local content of more than 60%, a supplier development programme was launched involving 20 entities, while 15 subcontractors worked on the project and 50 small and medium enterprises were involved. A local assembly and manufacturing facility was established at Northriding in northwest Johannesburg.
'We take immense pride in the exceptional teamwork demonstrated by both Prasa and Siemens in completing this complex project', said Kevin Pillay, CEO of Siemens Mobility South Africa. 'This shows we have the local skills and resources to deliver advanced signalling systems for South Africa.'