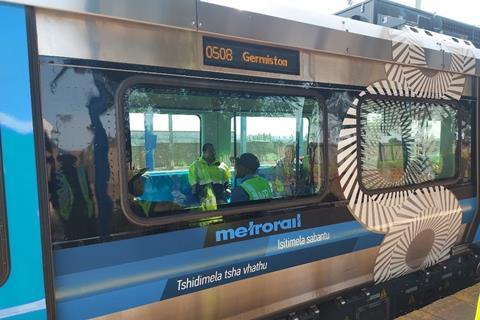 SOUTH AFRICA: Passenger Rail Agency of South Africa has restarted a limited service on the Germiston – Leralla line in the Johannesburg suburbs.
The reintroduction of services on June 27 follows a 14-month blockade to restore vandalised infrastructure.
Trains are currently only calling at Leralla, Limindlela, Tembisa, Kempton Park, Rhodesfield, and Germiston, with repair work still outstanding at other stations along the route.
Prasa undertook a blockade in May 2022 to repair the heavily vandalised stations and reinstall overhead power supply equipment; at that time, the operator had hoped to relaunch a full service by the end of that year.
Prior to the blockade, the operator had been using diesel locos to haul EMUs on the 40 km route. Since the reopening, the line is being operated using six-car X'Trapolis EMUs, being supplied by the Alstom-led Gibela consortium.
Elsewhere, Prasa is still working on the restoration of the Johannesburg – Pretoria corridor; trains resumed running between Pretoria and Centurion at the end of March. However, at present the only operational rail link between Johannesburg and Pretoria is the 1 435 mm gauge Gautrain service.